Yaskawa will be participating in the Technologia 2015 exhibition in Helsinki, Finland.
Yaskawa Electric Corporation, a world leader in industrial robotics, electrical drives and frequency converters, is celebrating its 100th anniversary this year. The company is arranging special events worldwide to mark this special milestone. In Finland, Yaskawa will be participating in the Technologia 2015 exhibition in Helsinki, Finland, together with its Finnish subsidiary, The Switch, which it acquired last year.

"Although the name Yaskawa may not be familiar to consumers, they are daily users of products whose production processes rely heavily on Yaskawa products. For example, our robots are used extensively throughout the different phases of car manufacturing as well as in many kinds of materials handling and packaging operations in countless industrial sectors around the world," explains Nina Lehtinen, CEO of Yaskawa Finland Oy.
Over 300,000 robots developed and manufactured by the company have been installed globally. In addition to the industrial sector, Yaskawa is continually applying its expertise to new areas, such as healthcare, medicine and wellness. As an example, it has participated in the development of the ReWalk robot, which helps many paraplegics walk again.
The second cornerstone of Yaskawa is electric motors and frequency converters for which it is known around the world. Throughout its entire existence, the company has developed high-quality and reliable motion control solutions for demanding applications across the entire power range and medium voltage. Yaskawa is able to also offer servo performance in high power ranges.
Yaskawa and The Switch - together we're more
In 2014, Yaskawa acquired The Switch to expand into the renewable energy sector and, in particular, into the wind power business. Through the acquisition, Yaskawa boosted its product pallet with The Switch-manufactured megawatt-class permanent magnet generators and full-power converters, which are used in wind turbines and other systems that produce renewable energy. The latest application area for this technology is the marine industry. Ships can decrease both fuel consumption and emissions by using electrical drive trains, therefore increasing their environmental appeal.
"Yaskawa will utilize The Switch experience in specialty applications as well as our distinct way of working close to customers. This approach differs from the conventional ways of simply developing products and selling them through sales channels, while not receiving any direct feedback from the customer. We grow our operations together with our customers by utilizing the latest technology," explains CEO Jukka-Pekka Mäkinen of The Switch.
Information on Yaskawa and The Switch
Yaskawa was founded in Kitakyushu, Japan in 1915. At first, it delivered motors and conveyor systems to coal mines. In its one hundred years, the company has grown its turnover to EUR
3.2 billion and employs nearly 16,000 people in over 60 countries throughout the world.
Yaskawa Finland Oy has operated in Finland since 1983 as the importer and representative of Yaskawa Motoman robots. The company is one of the largest suppliers of industrial robots and robot-based automated production systems in Finland. Its customers operate in sectors ranging from machinery manufacturing to packaging for the food industry.
The Switch, a Yaskawa company, is a specialist in advanced drive train technology. The company has an installed base of over 11 GW of megawatt-class permanent magnet machine and power converter packages. The main focus areas are wind, marine and special industrial solutions. The Switch reported net sales of over EUR 40 million in 2014 and employs 175 people, the majority of which work in Finland (Lappeenranta, Vaasa and Helsinki) and China. For more information, visit: www.theswitch.com.
Featured Product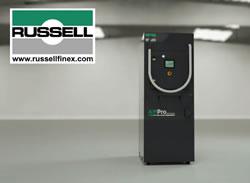 The Russell AMPro Sieve Station™ guarantees the quality of your additive manufacturing (AM) powder, and has been designed to provide optimum sieving efficiency, ensuring your powder is ready for use or reuse as and when you require it. With a simple one-button operation and mobile design, this automated check screener ensures your powder at every stage of the process is qualified for use quickly and safely. The flexibility of the Russell AMPro Sieve Station™ means you can use the system for numerous powder handling tasks - being a modular design ensures the machine can be configured to meet your exact requirements.