2015 Pack Expo, Sept. 28-30 at the Las Vegas Convention Center
SEATTLE, Sept. 22, 2015 -- Colordyne Technologies (colordynetech.com), an innovative leader in high speed digital color printing, has joined forces with GoToTags (gototags.com), an expert in end-to-end NFC solutions, to enable on-demand printing of NFC labels. Typical lead times of 2-3 weeks for printed NFC stickers have been reduced to 24-48 hours, opening up new revenue opportunities for the domestic commercial printer market. The easy-to-use NFC label stock has been tested and approved by Colordyne to work in their suite of digital inkjet printers. Together Colordyne and GoToTags offer everything needed for a commercial printer to print, encode, manage and analyze an NFC print campaign for their clients.

The partnership will debut these capabilities at the 2015 Pack Expo, Sept. 28-30 at the Las Vegas Convention Center. A limited number of private demonstrations at Colordyne's booth (#S-6469) may be scheduled in advance. Representatives from both GoToTags and Colordyne will be on hand to explain the uses, benefits and future of NFC and the incredible profit potential this represents for commercial printers.
Colordyne Technologies, the leader in digital printing solutions powered by Memjet technology, is committed to providing continuous innovation. "Clients are increasingly demanding the latest technologies for deploying their projects," said Gary Falconbridge, CEO of Colordyne. "These new printable NFC stickers from GoToTags printed on Colordyne printers represent a way for our commercial printer partners to leverage the massive IoT (Internet of Things) movement and deliver cutting edge solutions to their customers."
GoToTags is a Seattle-based solution provider for IoT and NFC campaigns of all sizes, having served over 15,000 clients worldwide and fulfilling every aspect along the spectrum of services or products required to design, deploy, manage and analyze an NFC campaign. GoToTags offers NFC products through its online store (buynfctags.com). "We are very pleased to partner with Colordyne," said GoToTags CEO Craig Tadlock. "We have taken care of thousands of NFC customers and making the delivery of custom printed NFC tags faster and easier is what they want most, so we've partnered with Colordyne, a leader in custom printing, to build a seamless solution."
To learn more about Colordyne Technologies, contact Taylor Buckthorpe at taylor@colordynetech.com. For questions about GoToTags or to reserve your private printable NFC sticker demonstration at Colordyne's booth (#S-6469) please contact help@gototags.com.
Featured Product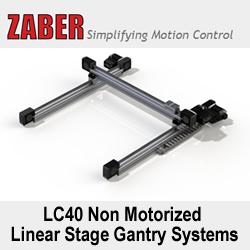 A Zaber gantry kit comes with everything you need to build a customized XY gantry system or XYZ gantry system. These gantry systems feature coordinated multi-axis motion, plug-and-play operation, easy integration with end-effector options, and built-in IO and E-Stop capabilities. An intuitive ASCII interface allows the user to easily communicate with the gantry systems using our free software, either Zaber Motion Library with APIs for several popular languages or Zaber Console. Third party terminal programs that can communicate over a serial port can also be used.