ProTech – the new Pro Mach-wide cloud-based monitoring system that provides remote technical service and support along with remote monitoring capabilities to optimize machine performance ̶ is now a standard feature on Axons mandrel-style shrink sleeve applicators (Axon Pack Expo Booth C-2820)
RALEIGH, NC September 22, 2015

Axon, powered by Pro Mach, launches new remote monitoring and repair service capabilities for its Lanzara, Aurora, and 400SLX series mandrel-style shrink sleeve applicators at Pack Expo Las Vegas, September 28-30. Axon, a leading manufacturer of fully automated heat-shrink labeling, tamper-evident banding, and stretch-sleeving equipment, is recognized for providing customers with innovative solutions that increase throughput and uptime. (Axon Pack Expo Booth C-2820)
ProTech by Pro Mach is a secure, state-of-the-art, smart services option for customers looking for the utmost in machine effectiveness. Based on proven technology applied worldwide, ProTech has been optimized by Pro Mach for the packaging industry. The ProTech option is the latest addition to Pro Machs ProCustomer® portfolio of services, one of the most respected support programs in the industry.
While the hardware and software for ProTech will be embedded within Axon mandrel-style machines, customers can access as little or as much of the cloud-based system as they desire. Features can be turned on and off quickly and easily.
"ProTech is a win-win-win for customers, Axon, and Pro Mach," said Ken Nyren, Engineering Manager for Axon. "Customers have the option of OEE information customized for their environment and available at any time via mobile or fixed devices. Service and tech support can be accomplished in minutes or hours rather than days. Through these support programs, Axon and Pro Mach receive a high level of customer loyalty that is only given to those that exceed expectations."
The Axon applicators with ProTech functionality
Axons Lanzara next generation shrink-sleeve labeler is specifically designed to provide higher output and improved flexibility for up to 400 containers per minute (cpm). This OMAC PackML compliant machine can apply shrink-sleeve labels, tamper-evident bands, or multipacks with a sleeve lay flat width range of 2 to 8 inches (50 to 200 mm).
Axons Aurora series offers applicator speeds up to 300 full-body shrink sleeves per minute. The cantilevered frame is available in two stainless steel options: 304 grade for wet-filling rooms, or 316 grade for increased corrosion resistance. This makes the Aurora the ideal shrink-sleeve labeling choice for beverages, dairy products, household chemicals, nutraceuticals, and pharmaceuticals.
The 400SLX series is Axons high-speed shrink-sleeve applicator capable of up to 600 cpm on one head and up to 1,000 cpm on a dual head configuration. The 400SLX offers a wide range of standard features, such as a film cart with a festoon system that accumulates enough film to allow on-the-fly-splicing for nonstop operation.
For more information about Axons comprehensive, fully automated high speed shrink-sleeve labeling, tamper-evident banding, and stretch-sleeving equipment, you can see Axon at Pack Expo Las Vegas Booth C-2820, call 1-800-598-8601 or visit http://www.AxonCorp.com.
About Axon
Axon is a leading manufacturer of fully automated, heat-shrink labeling, tamper-evident banding, and stretch-sleeving equipment. With more than 30 years experience delivering products and solutions that are affordable, reliable, versatile, and easy to use, Axon sets the standard for technology development and customer value within the industries it serves. Visit Axon at http://www.AxonCorp.com.
About Pro Mach
Pro Mach is a leading provider of integrated packaging and processing products and solutions for food, beverage, consumer goods, pharmaceutical, and other diverse companies. Through its brands, Pro Mach provides product packaging and processing equipment, PMMI certified training, installation, parts, and service in Bottling & Capping, Primary Packaging, Flexible Packaging, Material Handling, Labeling & Coding, and End of Line.
Pro Mach has a diverse customer base, from Fortune 500 companies to smaller, privately-held businesses worldwide, which depend on reliable, flexible, technologically advanced equipment and integrated solutions. Pro Mach is headquartered near Cincinnati, Ohio, with manufacturing facilities and offices throughout the United States, Canada, Mexico, and Europe. For more information about Pro Mach, visit http://www.ProMachInc.com.
Featured Product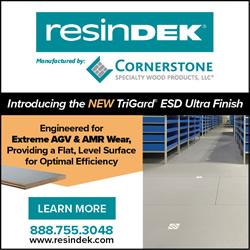 To maximize the productivity of an autonomous mobile robot (AMR) or automatic guided vehicle (AGV) deployment, it's critical to create the optimal environment that allows the vehicles to perform at their peak. For that reason, Cornerstone Specialty Wood Products, LLC® (www.resindek.com) created the TriGard® ESD Ultra finish for its ResinDek® engineered flooring panels. The TriGard ESD Ultra finish is ideal for high-traffic robotic applications characterized by highly repetitive movement patterns and defined travel paths.