Two years ago, Pro Mach established its Flexible Packaging Group to be a one-stop shop for flexible packaging. Today with strong annual growth and solutions from filling through palletizing, the group is more than realizing its promise (Pro Mach Flexible Packaging Group Booths C-3221, 3223, and 3323)
SAUKVILLE, Wis. September 17, 2015

Pro Mach Flexible Packaging Group, a one stop shop for flexible packaging solutions from filling through palletizing, features at Pack Expo 2015 in Las Vegas, September 28-30, solutions for vertical form fill seal packaging, pouch packaging, stickpack and sachet packaging, horizontal form fill seal pouch packaging, bagging, and shrink wrapping and bundling. (Flexible Packaging Group Booths C-3221, 3223, and 3323)
"In the last two years, the Flexible Packaging Group has diligently added world-class brands to its portfolio and also began tailoring products for the unique needs of customers in various geographic areas," said Troy Snader, Senior Vice President, Pro Mach Flexible Packaging Group. "Importantly, our team developed close project management and engineering ties with Pro Machs End of Line Group, which effectively created a one-point-of-contact/end-to-end solution for customers - filling through palletizing. The group continues to grow very rapidly as more customers become familiar with our broad capabilities and see the value we bring in solving challenges across their entire packaging line."
Flexible Packaging Group brands with machines at Pack Expo include: Matrix, vertical form fill seal baggers; Toyo Jidoki, pre-made pouch filling and spout insertion machines; FLtecnics, horizontal form fill seal pouch machines; Inever stickpack and sachet machines; Rennco vertical bagging machines; and Tekkra bundling and shrink wrapping systems.
Matrix is showcasing the latest automatic adjustment features to its next generation Morpheus and Apollo machines as well as announcing that the Apollo can be cost effectively upgraded at any time from intermittent motion at 150 bags per minute to continuous motion at 180 bags per minute for an exceptional migration path. The Toyo Jidoki TX-100SP1 duplex spout inserting machine on display gives converters the flexibility to offer spouted pouches and at the same time gives end users a means to reduce pouch transportation costs. The Toyo Jidoki TT-8DN on display is an outstanding premade pouch filling solution that can easily integrate with the TX-100SP1 spout inserter.
The FLtecnics FL 1.7 BV horizontal form fill seal pouch machine on display can insert a corner spout or a center spout from the same applicator. This patented feature gives customers great flexibility; the machine also forms zippered pouches. Inevers MVC800 stickpack machine at the show is optimized to process thick sauces and dressings. The companys other two machines on exhibit demonstrate why Inever is the leader in stickpacks and sachets as both offer superior speed and versatility.
Tekkra introduces at Pack Expo the Triad, an entry-level shrink wrapping and bundling system. This innovative, modular machine can accommodate one of three types of Tekkra infeed systems, each of which meets a different application need - manual-load for tray wrapping and/or bundling, powered side infeed for shrink bundling, and powered in-line for tray shrink wrapping. Rennco builds rugged, easy to use bagging machines recognized for long years of service. Models 501 and 301 on the show floor feature the latest Rennco upgrades to controls and infeed systems for enhanced operation and improved throughput.
For more information on the highlighted Matrix, Toyo Jidoki, FLtecnics, and Inever brands, visit http://www.MatrixPM.com. For more information about Rennco and Tekkra products, visit http://www.Rennco.com and http://www.Tekkra.com.
About Matrix
Matrix Packaging Machinery is an industry-leading manufacturer known for vertical form-fill-seal, pre-made pouch, horizontal roll-stock pouch, and stickpack and sachet packaging machines. Since 1988 Matrix has built a solid reputation for delivering rugged, well-engineered, cost competitive, and easy-to-use packaging systems backed by outstanding customer support. Matrix solutions are in operation throughout the world, handling a wide range of products in very diverse conditions. http://www.MatrixPM.com
About Rennco
Rennco is a leading manufacturer of vertical bagging and L-Bar sealing systems. For more than 40 years, companies have depended on our solutions to package a wide variety of products in center-folded polyethylene, polyolefin, and PVC films. Headquartered in Homer, Mich., the company backs its durable, easy-to-operate equipment with experienced engineering and customer support to ensure ongoing customer satisfaction. http://www.Rennco.com
About Tekkra
As a leading developer of shrink wrapping/bundling and integrated packaging systems, the Tekkra team is driven to provide the industrys most advanced solutions. Incorporating the latest technologies with robust design methodologies not only ensures high efficiencies, but also high reliability and minimal maintenance. Additionally, Tekkra develops turn-key solutions, incorporating bundling and shrink wrapping with collation systems, labeling, case packing, palletizing, and robotics. http://www.Tekkra.com
About Pro Mach
Pro Mach is a leading provider of integrated packaging and processing products and solutions for food, beverage, consumer goods, pharmaceutical, and other diverse companies. Through its brands, Pro Mach provides product packaging and processing equipment, PMMI certified training, installation, parts, and service in Bottling & Capping, Primary Packaging, Flexible Packaging, Material Handling, Labeling & Coding, and End of Line.
Pro Mach has a diverse customer base, from Fortune 500 companies to smaller, privately-held businesses worldwide, which depend on reliable, flexible, technologically advanced equipment and integrated solutions. Pro Mach is headquartered near Cincinnati, Ohio, with manufacturing facilities and offices throughout the United States, Canada, Mexico, and Europe. For more information about Pro Mach, visit http://www.ProMachInc.com.
Featured Product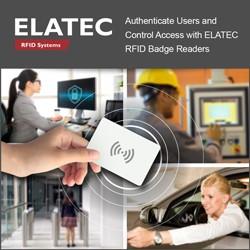 With a tap of the badge, RFID readers from ELATEC provide secure, reliable and easy-to-use user authentication, access control and usage tracking of hardware and software in industrial automation processes. Reader durability in harsh plant floor environments is another essential feature. Choose the right authentication and access control solution and extend RFID card-based capability for the access control of PLC, robot and HMI automation controller software and devices requiring special operator training.