Integrated Case Packing, Robotic Palletizing, Stretch Wrapping, and De-Palletizing Line Requires 40 Percent Less Floor Space than Comparable Configurations (Booth C-3121)
ALEXANDRIA, Minn. September 16, 2015 The Pro Mach End of Line Group, showcases at Pack Expo Las Vegas 2015, September 28-30, a host of stand-alone and integrated systems from such brands as Brenton, Currie by Brenton, DEKKA, Edson, IPak, Orion, and Wexxar/BEL. The Pro Mach End of Line Group Island of aligned booths at Pack Expo offers manufacturers a one-stop-shop for key end-of-line solutions. (Edson Pack Expo Booth C-3021, Orion Booth C-3023, Brenton and Currie by Brenton Booth C-3121, and Wexxar/BEL, IPak, and DEKKA Booth C-3123)

The integrated case packing, robotic palletizing, and stretch wrapping line
A key attraction of the End of Line Island is a working demonstration of the fully integrated Brenton case packer, Currie by Brenton robotic palletizer, and Orion stretch wrapper. This solution will shortly be installed at a major pharmaceutical manufacturing facility. This end-of-line system reduces by up to 40 percent the floor space typically required by similar configurations.
This integrated system is fully automated. The only required manual operations involve loading blank cases into the case packer and film onto the stretch wrapper. To save space, the control panel for the case packer and robot has been consolidated into one compact unit and mounted directly to the frame of the Brenton Mach-2 wrap-around case packer.
Separate vision systems for cartons and cases verify that printed barcode and human readable information is correct for each unit. Furthermore, each filled case is check weighed to ascertain the proper number of cartons per case. This systems end-to-end quality control features are foundational to tracking and tracing pharmaceutical products. The robot is mounted directly on the frame of the case packer, saving considerable floor space.
The HMI for the case packer and robot have been integrated for unified operation and utmost ease of use. Control of the robot is carried out through the HMI, a much simpler and more intuitive process than programming movement through a teach pendant.
Another space savings aspect is that the robot builds pallet loads directly on the base of an Orion FA turntable automatic stretch wrapper. This stretch wrapper features Orions latest control system with enhanced HMI, which is being introduced at Pack Expo. The high resolution imaging on the HMI makes diagnosing problems with wrapped pallets and maintenance on the unit easier than in the past. After the stretch wrap station, pallets will index forward to the de-palletizing area of the active demonstration.
Remote monitoring through ProTech by Pro Mach
The stretch wrapper is ProTech enabled for remote service/tech support and remote overall equipment effectiveness (OEE) monitoring. The Mach-2 case packer has an eight-video-camera system for monitoring and diagnosing operational issues with the machine. The video system provides real time and achieved video with the cloud-based ProTech system. ProTech is being introduced by Pro Mach at Pack Expo.
"One of the great things about this integrated line at Pack Expo is that it is not simply a show demo, but an actual small footprint customer system that show attendees can view and learn more about," said Gary Evans, Senior Vice President, End of Line Group. "The other important feature of our brands at Pack Expo is the critical mass of talent that is available to consult with on end-of-line solutions. This years Pack Expo is an excellent time to become acquainted with what Pro Mach End of Line delivers."
More innovations at Pack Expo
Edson, powered by Pro Mach, introduces the Raptor SL, a fully integrated side-load case packer that erects, packs, and hot-melt seals cases up to 25 inches by 20 inches (63 by 51 cm) at a rate of 8 to12 per minute. The Raptor SL case packer was designed from inception to give small and medium sized companies an automation solution that helps to lower labor cost and increase throughput. The Raptor SL is ideal for case packing paper products, foods, pharmaceuticals, and personal care items such as diapers. (Edson Booth C-3021)
Wexxar/BEL, powered by Pro Mach, features an easy load magazine for its case forming and case erecting systems. The magazine ensures that cases can be easily loaded without significant manipulation of the cases allowing loading times to be cut in half compared to standard magazines. The new system is more accommodating to different styles of cases, such as box in box or corrugated with variances in thickness, than previous systems. The design of the rapid load magazine allows for easy integration with automatic case loaders. (Wexxar/BEL Booth C-3123)
IPak, powered by Pro Mach, showcases the TF-100 four-corner tray former. This unit is affordable, reliable, and ideal for low to mid speed tray forming. This is a compact unit designed for companies looking for a small footprint solution. The TF-100 features a 7 inch (18 cm) touchscreen, Nordson glue system, interlocked guarding, and more. (IPak Booth C-3123)
DEKKA, powered by Pro Mach, features the SX-T, the companys top-of-the-line tape head, which incorporates an innovative and patent pending pull-tab design. This feature forms a tab at the end of the tape tail so that workers can effortlessly open a case without the use of sharp tools, reducing the chance of injury or product damage. The SX-T is adaptable to different tape and the easy load design with an open side frame ensures that tape loading can be done in 30 seconds or less. To ensure freedom of choice and the optimum cost of materials, the SX-T does not lock the organization into any particular brand or type of tape. (DEKKA Booth C-3123)
For more information on Pro Mach End of Line Groups one-stop-shop services for integrated packaging line solutions, factory acceptance testing, and stand-alone machines call 800-535-2730 and visit http://www.EOLPackagingSolutions.com.
About Pro Mach
Pro Mach is a leading provider of integrated packaging and processing products and solutions for food, beverage, consumer goods, pharmaceutical, and other diverse companies. Through its brands, Pro Mach provides product packaging and processing equipment, PMMI certified training, installation, parts, and service in Bottling & Capping, Primary Packaging, Flexible Packaging, Material Handling, Labeling & Coding, and End of Line.
Pro Mach has a diverse customer base, from Fortune 500 companies to smaller, privately-held businesses worldwide, which depend on reliable, flexible, technologically advanced equipment and integrated solutions. Pro Mach is headquartered near Cincinnati, Ohio, with manufacturing facilities and offices throughout the United States, Canada, Mexico, and Europe. For more information about Pro Mach, visit http://www.ProMachInc.com.
Featured Product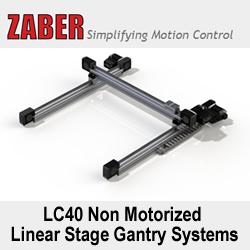 A Zaber gantry kit comes with everything you need to build a customized XY gantry system or XYZ gantry system. These gantry systems feature coordinated multi-axis motion, plug-and-play operation, easy integration with end-effector options, and built-in IO and E-Stop capabilities. An intuitive ASCII interface allows the user to easily communicate with the gantry systems using our free software, either Zaber Motion Library with APIs for several popular languages or Zaber Console. Third party terminal programs that can communicate over a serial port can also be used.