Specializing in Material Handling Automation Solutions
Greenville, Wisconsin - September xx, 2014 - QComp Technologies, Inc. recently celebrated its 25th year anniversary as one of the premier automation integrators in the U.S. specializing in material handling automation solutions. Founded in 1990 by Tom Doyle, the company initially focused on applications in the paper and metals industries but over the years has expanded its reach into the flat glass, solar, food, consumer goods and manufacturing industries.

"Thanks to our team of dedicated automation experts, we have designed and installed hundreds of robot-based automation systems throughout the United States and are known for our customer-focused approach, superior engineering capabilities, strategic partnerships, vast industry knowledge and comprehensive support systems," said Tom Doyle, President of QComp Technologies. "On behalf of our company I would like to thank all of our partners and customers for their confidence and business and we look forward to continuing working with them to provide the well-proven, cost-effective solutions they have come to expect."
QComp continues to lead the way in robotic integration for its customers and leverages its robot experience by aligning its services with the most advanced and reliable robot suppliers in the world. Beginning in 1997, QComp earned Certified Global Partner status with ABB Robotics, one of the world's robot leaders. In 2010, QComp became a FANUC robots Authorized Integrator, continuing QComps efforts to provide our customers with the best value robot systems. QComp has continued to grow and in 2011, became a KUKA Robotics System Partner and in 2014 achieved recertification as part of the RIA Certified Robot Integrator program.
About QComp Technologies, Inc.
QComp Technologies, founded in 1990, is an automation systems integrator specializing in material handling automation solutions. QComps customer-focused approach to its projects is what separates them from many of its competitors. The QComp team of dedicated, electrical engineers, mechanical engineers, programmers and technicians make the company what it is today. Their talents, experience and passion for their work help instill a sense of trust and confidence in QComp customers throughout the duration of the projects. More information can be found on the companys website www.qcomptech.com.
Featured Product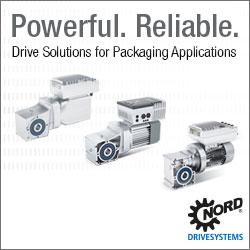 NORD's redesigned line of small CLINCHER parallel gear units showcase increased power and torque capacity for a variety of applications. These re-engineered versions will be replacing the existing SK0182NB, 0282NB, and 1382NB units. They are lightweight, have improved heat dissipation, are more cost-effective, and are available with NORD nsd tupHTM sealed surface conversion for wash-down and extreme environments.