Six regional winners selected for their dedication to improving the trade and their community; one will receive a customized 2015 Ford F-150 XLT Crew Cab when named Electrician of the Year
September 15, 2015 (Lincolnshire, IL) - Klein Tools (http://www.kleintools.com), for professionals since 1857, has selected six regional finalists for its annual Electrician of the Year award. The finalists were selected from nearly 600 applicants and were recognized for their commitment to professional achievement, safety excellence and community dedication. On October 5th, the regional winners will be awarded with Klein Tools Ultimate Garage Package, and one deserving finalist will be named the Electrician of the Year receiving a customized 2015 Ford F-150 XLT Crew Cab.

EOY-WEBThe regional Electrician of the Year winners were selected by a council of Klein Tools employees who evaluated 586 submissions. Winners were chosen in six different regions across the U.S. (Northwest, West, Great Lakes, South, Southeast and Northeast). The winners will be flown to San Francisco for a special event on October 5th, where they will be awarded Klein Tools Ultimate Garage Package including a 41-piece Klein Journeyman Tool Set and other Klein gear. During the same event, the grand-prize winner will receive a 2015 Ford F-150 XLT Crew Cab customized by off-road specialists Addictive Desert Designs based in Mesa, Arizona.
"We appreciate every electrician who applied for the Electrician of the Year contest," said Greg Palese, vice president of marketing at Klein Tools. "This fine group of individuals makes us proud to support and serve the electrical industry. Our regional winners have proven their determination to advancing the trade and improving their communities. We are pleased to award them with Klein Tools products that work as hard as they do."
The 2015 Electrician of the Year Regional Winners are:
Region 1 "Northwest"
Mike Scott is the sole employee of his cable system business in Friday Harbor, Washington. He has a passion for safety that has helped him achieve 15 years without any accidents. He says a zero tolerance safety policy means he will always make it home and that the people he is working with know they will too.
In his spare time, he helps to install the citys holiday decorations and is currently working with the local American legion to paint a large American flag on their retaining wall.
As a true fan, Klein gear tops his wish list for each birthday and special occasion. He loves the brand and enjoys sharing it with others.
Region 2 "West"
Robert Stuart has been a journeyman electrician for more than 18 years currently residing in California. His career began in high school where he worked as a part-time shop assistant before graduation. He then successfully completed his ABC Electrician Apprenticeship program and received his California Journeymans Electrician license in 2003 and works for Strong Hold Engineering.
Robert is most proud of his work with large industrial electrical upgrades swapping rigid conduit and motor control centers during night outages. He appreciates the artwork of moving the coils and twisting them like a roller coaster. He also recently completed an installation project of Solar Photovoltaic Systems at Fort Irwin using new concentrated solar panel technology.
He credits safety with his success saying simplicity is the key. He also leads a daily safety briefing and role models good behaviors to his colleagues.
To give back, Robert volunteers with Apprenticeship 411, which conducts hands-on training, equipment demonstrations and seminars for 200 high school students teaching them about the electrical industry. He has also been an Assistant Scout Master with the Boy Scouts since 2006.
Region 3 "Great Lakes"
Joey Hall of Somerset, Kentucky has owned and operated Diamond Electric since 1993 and hes been an electrician for more than 35 years. He is active in commercial, industrial and residential projects and most enjoys challenging work in the industrial sector with large local companies. He thrives on finding creative solutions for potentially dangerous or difficult problems. Former customers say Joey is a man who is committed to integrity, honesty and safety on the job site.
His company has a great safety record with only one workers compensation claim in 22 years of business. Along with regular safety team meetings, Joey also insists all of his employees actively attend continuing education classes and first-aid trainings.
In his spare time, Joey volunteers with the local little league and helped build a brand new baseball facility for the community. He also leads a team in painting the high school football field for every home game. At church he helps provide food, clothes and health screenings to people in the area.
Region 4 "South"
Nathan Guerrero is a journeyman electrician in Local 1141 in Oklahoma City, Oklahoma. He participated in local 1141 JATC and finished his apprenticeship in 2007. Since then, he has successfully completed several jobs including remodeling projects at a medical facility, new construction and wind farm work.
Nathan believes that no project is more important than safety and models that mantra every day. He has been safety certified by Devon Energy, Jindal Films, Nexterra and the Tinker Air Force Base. He served in the U.S. Army as a combat life saver, which he believes started his focus on safety.
In his free time, he is active in the local veteran community to support his fellow servicemen. He also has spent countless hours serving the community repairing storm damage and also assisting the elderly with cooling options during the hot Oklahoma summers.
Region 5 "Southeast"
David "Keith" Taunton from Cherry Log, Georgia has owned his electrical company since 2007. It began as a one-person company responding to house and service calls and has grown to being licensed in Georgia, North Carolina and Tennessee. The company services commercial and residential installations, but Keiths passion is green energy where he loves doing work on solar systems and LED projects.
Keith is committed to continuing education around safety and regularly shares with others what he has learned. Locally, he has a great reputation for work that is organized, neat and tidy.
He is always looking for ways to give back and donated all the labor and materials to building Kids Kottage, which helps abandoned and abused children. Keith also has a heart for the elderly and is always on-call to help respond to overnight outages or any of their needs to make sure they are comfortable.
Region 6 "Northeast"
Jason Robinson of Derry, New Hampshire has been following his dream to be an electrician since high school. After his school stopped the electrical program his senior year, Jason went to the NH Board of Electricians to find a way where he could get that experience. After a little convincing, Jason was granted the ability to intern with Stellos Electric while still in high school. He attended the internship before school, went to school and then wrestling practice. He also began volunteering with Habitat for Humanity wiring new homes as a senior.
Today, Jason is a construction engineer and safety leader at BCM Controls. He also works as a consultant at Mass General Hospital. His passion for safety and excellence keeps him motivated to give weekly tool box talks and has recently given him the opportunity to start and manage an in-house electrical shop with his company.
Jason is known around town as the man with the biggest heart. He is always the first one to see and solve a problem, no matter how big or how small. Recently, he became president of the Boys and Girls Club of Greater Derry Wrestling Rebels where his priority is to find ways to raise money for those who cant afford to participate. He also manages a similar role with the Boys and Girls Clubs Cal Ripken Baseball league to ensure no child is ever turned away due to lack of payment. He is constantly active in the community raising money and finding raffle prizes so that all children have a chance to play team sports.
Featured Product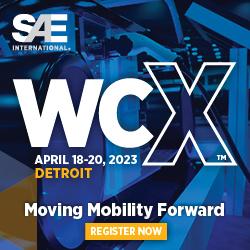 The largest technical mobility event in North America returns to Detroit from April 18-20, 2023. Join thousands of engineers, executives, suppliers, academics and R&D professionals for WCX™ World Congress Experience to exchange ideas, discuss today's challenges, and build powerful relationships to move your career and the mobility industry forward. Register today at sae.org/wcx.