According to the new report from BCC Research, the North American market for automated material handling was valued at nearly $4.5 billion in 2013 and $4.8 billion in 2014. The total market is projected to grow at a compound annual growth rate (CAGR) of 8.1% from 2014 through 2019 and reach $7.1 billion by 2019.
September 02, 2015

Wellesley, Mass., September 02, 2015 - The next decade in the automated material handling equipment and systems industry should bring technological advancements that will allow companies to reconfigure rapidly to accommodate changes in throughput, SKU velocity, and product mix. BCC Research reveals in its new report that experts predict that flexibility and scalability will define an industry in technological transition.
North Americas automated handling segment is anticipated to reach $4.8 billion and $7.1 billion in 2014 and 2019, respectively, reflecting a five-year compound annual growth rate (CAGR) of 8.1%. Overall, the global market value was estimated at $120 billion in 2013.
The material handling industry provides the connections that move goods through the supply chain and into consumers hands. It impacts the North American economy broadly, touching everything from raw materials at the point of origin to final delivery at the front door of the consumer to recycling and end-of-life disposal. Automated material handling products and systems are either sold directly by their manufacturers via factory-owned branches or through material handling distributors, suppliers and special services providers.
The vast diversity of the entire material handling industry helps it weather just about any negative economic cycle. This includes the estimated nearly 38% drop in market value the industrys automated material handling segment experienced during the 2008 and 2009 economic downturn.
However, signs of improvement abound, promising healthy growth during the forecast period. Technology will be a key driver. Areas such as robotics, autonomous control, driverless vehicles and wearable computing will significantly impact the industry during the next 15-20 years.
"The concept of flexibility is related to the concept of scalability. A system is scalable when its capabilities can be incrementally increased or decreased as business needs dictate," says BCC Research analyst Lisa Marshall. Citing the robotics industry as an example, she says the area is "in the midst of a true revolution as capabilities increase and costs decrease. Although most industrial robots are currently found in manufacturing applications, they are becoming more viable for material handling and logistics applications in the future."
Automated Material Handling Equipment and Systems: The North American Market (IAS099A) examines the global market in terms of growth, size and opportunities for different products, technologies, and also regionally. The report includes forecasted trends and revenue through 2019.
Editors and reporters who wish to speak with the analyst should contact Steven Cumming at steven.cumming@bccresearch.com.
About BCC Research
BCC Research publishes market research reports that make organizations worldwide more profitable with intelligence that drives smart business decisions. These reports cover today's major industrial and technology sectors, including emerging markets. For more than 40 years we've helped customers identify new market opportunities with accurate and reliable data and insight, including market sizing, forecasting, industry overviews, and identification of significant trends and key market participants. We partner with analysts who are experts in specific areas of industry and technology, providing unbiased measurements and assessments of global markets. Recently selected as the worlds greatest market research company, BCC Research is a unit of Eli Global, LLC. Visit our website at http://www.bccresearch.com. Contact us: (+1) 781-489-7301 (U.S. Eastern time), or email information@bccresearch.com.
Featured Product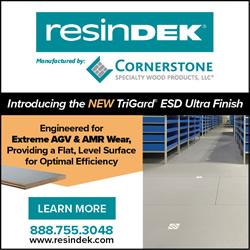 ResinDek flooring panels are designed for elevated platforms such as mezzanines, pick modules, and work platforms. They have the proven structural integrity to support dynamic and static rolling limits from 2,000 to 8,000 lbs. ResinDek flooring panels are available in a multitude of options that are customized for load capacities, required finish type, volume and type of traffic including heavy rolling pallet jack loads and robotic traffic with AGVs and AMRs.