Dr. Goffer Leaves Lasting Legacy With Visionary Invention That Enables Individuals With Lower Limb Paralysis to Walk Again
YOKNEAM ILIT, Israel and MARLBOROUGH, Mass., Aug. 24, 2015 -- ReWalk Robotics Ltd. (Nasdaq:RWLK) today announced that its founder, President and Chief Technology Officer, Dr. Amit Goffer, will retire effective on November 18, 2015 and will also not seek reelection to the Board of Directors when his term expires at the Company's annual meeting of shareholders later this year.

Dr. Goffer founded ReWalk Robotics in 2001, following a life-altering all-terrain vehicle (ATV) accident that rendered him a quadriplegic. As an accomplished inventor and entrepreneur, having founded Odin Medical Technologies which was subsequently sold to Medtronic, Dr. Goffer pioneered the invention and development of the ReWalk Robotics wearable exoskeleton, enabling individuals with lower limb paralysis to walk again. Even though the technology does not currently enable Dr. Goffer to walk again due to the extent of his injuries, his tenacity to develop a wearable exoskeleton so that others could walk paved the way for the ReWalk Rehabilitation and Personal systems to be used by more than 1,000 ReWalkers around the world today. He is regarded as a pioneer and expert in the emerging exoskeleton industry. Dr. Goffer served as ReWalk's CEO from 2001 until 2012, and has served as its President and Chief Technology Officer since 2012 and a member of its board of directors since 2001.
"Amit's vision and innovation in pioneering the ReWalk technology allowed the dream of walking again to become reality for individuals around the world with spinal cord injuries. We have learned from our ReWalkers that Dr. Goffer's pioneering work fundamentally changed their health and life experience. We appreciate Amit's many years of dedicated service and the solid foundation his vision and leadership has built for our employees, ReWalkers and shareholders," said Larry Jasinski, Chief Executive Officer.
"It has been my honor to partner with Dr. Goffer since the early days of ReWalk Robotics in building the leading exoskeleton company in the world. His contribution to advancing science and technology has forever changed the world and the possibilities available to individuals with lower limb paralysis," stated Jeff Dykan, Chairman of the Board of Directors. "Many ReWalkers view Amit as their hero, and he will continue to be the hero of both current and future ReWalkers. I look forward to working with the board and management to build on the foundation established by Amit and to continue to bring this life-changing technology to more individuals around the world," he added.
"ReWalk has been my life's work and passion from well before I founded the company. The technology and its impact on the daily lives of individuals with spinal cord injuries have exceeded my expectations. This is just the beginning of the journey for individuals with lower limb paralysis and those with higher order injuries. I look forward with hope to ReWalk's continued commercialization to enable many more people around the world to benefit from rewalking," said Dr. Goffer.
Featured Product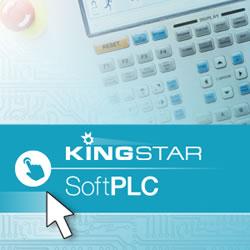 The top machine builders are switching from proprietary hardware-based PLCs, like Allen-Bradley, TwinCAT, Mitsubishi and KEYENCE, to open standards-based EtherCAT-enabled software PLCs on IPCs. KINGSTAR provides a fully-featured and integrated software PLC based on an open and accessible RTOS. KINGSTAR Soft PLC also includes add-on or third-party components for motion control and machine vision that are managed by a rich user interface for C++ programmers and non-developers alike.