DJI Phantom 3 Standard makes aerial imaging more accessible than ever before -- Includes intelligent flight functions that make cinematic shots easy to capture -- Integrated HD camera records video up to 2.7k -- Available for purchase today at US$799
SHENZHEN, China, Aug. 5, 2015 -- DJI, the global leader in innovative aerial robotics, today released the most accessible flying camera ('drone') the company has ever created.

Designed specifically for first-time pilots, the DJI Phantom 3 Standard brings DJI's signature attention to stability, flight, and imaging to make capturing aerial images easier than ever before.
"Based on the remarkable success of the DJI Phantom 3 Professional and Phantom 3 Advanced, we wanted to create a new drone that addresses people who are curious about aerial imaging, but not quite ready to commit to a more professional system," said Frank Wang, DJI's CEO and Founder. "The Phantom 3 Standard makes it easy to get into the air to take great photos and videos."
With a newly designed and integrated camera, the DJI Phantom 3 Standard records up to 2.7k HD video, double the resolution of standard 1080p HD video, at 30 frames per second using a high-quality 94-degree distortion-free lens. The camera also shoots still images at 12 megapixels in both DNG Raw and JPG formats. Using a standard WiFi connection, the DJI Phantom 3 Standard allows pilots to see what their camera sees in near real time in HD, capture photos, start / stop record for video and adjust camera settings all from the updated DJI Go app.
The remote controller is an updated version of DJI's previous Phantom 2 Vision+ controller, with an integrated WiFi range extender and wheel to angle the camera.
Based on the Phantom 3 design, the new DJI Phantom 3 Standard includes GPS-based stabilization and flight times up to 25 minutes using DJI's interchangeable Intelligent Flight Batteries for the Phantom 3 series.
The DJI Phantom 3 Standard will be compatible with intelligent flight features including Follow Me, Waypoint Navigation and Point of Interest flight planning.
- Follow Me - The drone intelligently follows the user based on their orientation.
- Waypoint Navigation - Allows users to set a multi-point route that the Phantom 3 flies automatically while leaving camera control (pan and tilt) to the user. Users simply have to pull back on their controller and the Phantom will retrace its path to the beginning.
- Point of Interest - Lets users define an object that the Phantom will fly around in a circle with the object framed perfectly in the center - capturing a cinematic shot that is otherwise difficult to fly manually.
These intelligent features, originally released for DJI's professional products, will be available through a firmware upgrade for the rest of the DJI Phantom 3 series in coming weeks. They are also available through SDK apps already developed by third party DJI developers.
The DJI Phantom 3 Standard is available for purchase at US$799* via DJI.com.
About DJI
DJI is a global leader in developing and manufacturing innovative camera technology for commercial and recreational use. DJI was founded and is run by people with a passion for remote-controlled helicopters and experts in flight control technology and camera stabilization. The company is dedicated to making aerial photography and filmmaking more reliable and easier to use for creators and innovators around the world. DJI's global operations currently span North America, Europe and Asia, and its revolutionary products and solutions have been chosen by customers in over 100 countries; for applications in film, advertising, construction, fire fighting, farming, and many other industries.
For more information, visit DJI online: www.dji.com
Featured Product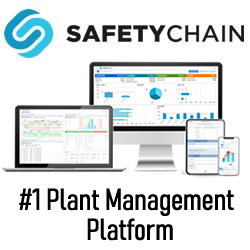 SafetyChain is the #1 Plant Management Platform that improves yield, maximizes productivity, and ensures compliance for process manufacturers. Trusted by over 1,500 facilities, SafetyChain is the only enterprise solution uniting production, quality, safety, and supplier management.