LiDAR Market Leader on Hand During High-Level Gathering in Michigan
MORGAN HILL, Calif. July 21, 2015

Under the banner, "Drivers. Vehicles. Infrastructure.," the Automated Vehicles Symposium 2015 will convene July 21 at the Ann Arbor Marriott Ypsilanti at Eagle Crest -- and Velodyne LiDAR, the global leader in sensors for autonomous vehicle applications, will be among the sponsors. The event is organized by the Transportation Research Board and AUVSI (Automated Unmanned Vehicle Systems International).
Velodyne is recognized worldwide for creating the standard for high-definition, real-time 3D LiDAR (Light Detection and Ranging) sensors for autonomous vehicle applications, creating the critical enabling technology for the industry. Velodyne introduced LiDAR during the 2004-2005 DARPA Grand Challenge and has since optimized it for self-driving cars. Today, Velodynes multi-channel 3D sensors are used by virtually every car manufacturer and tier 1 supplier in the auto industry, as well as major vehicle manufacturers outside the established car business. The market analyst firm Frost & Sullivan recently honored the company -- and the new VLP-16 LiDAR Puck -- with its 2015 North American Automotive ADAS (Advanced Driver Assistance System) Sensors Product Leadership Award, reporting that Velodyne "has developed the right product at the right price, giving them a critical competitive advantage in the market (with a) "a 'best of both worlds' offering."
WHO: Wolfgang Juchmann, PhD., Director, Sales & Marketing, Velodyne LiDAR.
In attendance at Automotive Vehicles Symposium 2015 will be Wolfgang Juchmann, who has more than 15 years of international experience in technical sales, product management, and marketing of industrial lasers and optical products for a variety of applications. The combination of Juchmanns technical background, commercial experiences, and his passion for customer satisfaction are unique factors that enable him to profitably lead new product developments for Velodyne's LiDAR division, as well as manage existing product portfolios with an intimate awareness for the customer's expectations. Juchmann earned his Ph.D. in Laser Spectroscopy of combustion flames and thin-film deposition plasmas from the University of Heidelberg, Germany.
WHAT: Automated Vehicles Symposium 2015
The Automated Vehicles Symposium 2015 is a multidisciplinary forum designed to advance the deployment of automated vehicles. Each day will kick off with high-level presentations by some of the brightest minds in the field. The program consists of a series of interactive breakout sessions addressing some of the industry's most pressing issues, among them cybersecurity, human factors design, shared mobility, energy usage, emerging enabling technologies, digital infrastructure and public policy considerations.
WHEN: July 21-23, 2015
WHERE: Ann Arbor Marriott Ypsilanti at Eagle Crest
1275 South Huron Street, Ypsilanti 48197
CONTACT: To speak with Wolfgang Juchmann, contact Ken Greenberg at Edge Communications, Inc. (323-469-3397).
About Velodyne LiDAR
Founded in 1983 and based in Californias Silicon Valley, Velodyne Acoustics, Inc. is a diversified technology company known worldwide for its high-performance audio equipment and real-time LiDAR sensors. The companys LiDAR division grew rapidly after founder and inventor David Hall competed in the 2004-05 DARPA Grand Challenge using stereovision technology. Based on his experience during this challenge, Hall recognized the limitations of stereovision and developed the HDL64 high-resolution LiDAR sensor. Velodyne subsequently released its compact, lightweight HDL 32E sensor, available for many applications including UAVs, and the new VLP-16 LiDAR Puck, a 16-channel real-time LiDAR sensor that is both substantially smaller and dramatically less expensive than previous generation sensors. Market research firm Frost & Sullivan has honored the company and the VLP-16 with its 2015 North American Automotive ADAS (Advanced Driver Assistance System) Sensors Product Leadership Award. Since 2007, Velodynes LiDAR division is the leading developer, manufacturer and supplier of real-time LiDAR sensor technology used in a variety of commercial applications including autonomous vehicles, vehicle safety systems, 3D mobile mapping, 3D aerial mapping and security. For more information, visit http://www.velodynelidar.com.
Featured Product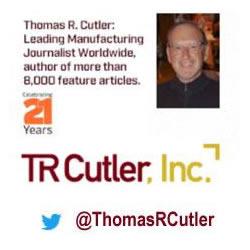 Cutler authors more than 1000 feature articles annually regarding the manufacturing sector. Cutler has established special divisions including African manufacturing, Colombian manufacturing, Gen Z workforce, and Food & Beverage. Cutler was recently named the Global Supply Chain journalist of the year for the second time in a row. Over 5200 industry leaders follow Cutler on Twitter daily at @ThomasRCutler. Contact Cutler at trcutler@trcutlerinc.com.