MCST 3601 – Powerful New Drive Electronics for Stepper Motors
Searching the multitude of available programmable motion controllers for one that is ideal for micro stepper motors with phase currents of sometimes less than 100 mA was once a real challenge. The new MCST 3601 series, developed from the cooperation between FAULHABER and Trinamic GmbH (the motion controller specialist for stepper motors), offers the solution. This controller is compact and flexible, and is suited to fit perfectly with the full range of FAULHABER micro stepper motors.

The series, which is equipped with a micro controller and a driver, can precisely regulate phase currents from 10 mA to 1.1 A. At the same time, it can be operated with a supply voltage that can vary between 9 and 36 VDC. Thanks to simple and fast communication with a PC via USB 2.0, all types of movements can be programmed using the available software. The ten inputs and outputs also allow external variables to be taken into consideration. Since the controller is designed as a test electronics system, users can adopt the predefined architecture according to their requirements and integrate the components in the platform of their specific industrial application.
Furthermore, the MCST 3601 series can actuate stepper motors in micro stepping mode. In this operating mode, up to 256 micro steps can be programmed per full step. This allows the resolution of the controlled rotary or linear movement to be increased considerably and/or the vibrations caused by the motor to be reduced. This capability is an excellent fit for optics applications where resolutions are often in the micro meter range.
Featured Product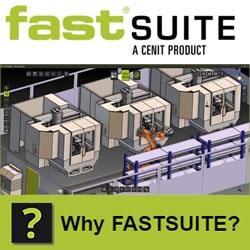 With two product lines, FASTSUITE for V5, which is seamlessly integrated with CATIA/DELMIA V5, and FASTSUITE Edition 2, a standalone platform, the areas of OLP (offline programming), manufacturing simulation and virtual commissioning are the core of our business activities. Our applications and solutions are not only focused on real customer needs, but they are also designed to improve efficiency and quality of our customers' manufacturing processes. No matter if the process is just about offline programming of a single robot at a small job-shop company or about the validation of a complete production line at an Automotive or Aerospace OEM. We strive to ensure a constant quality of our services and to provide the best possible support to our worldwide customers. Therefore we have established three digital manufacturing hubs around the world. All our teams have a proven expertise on manufacturing process integration and profound IT implementation skills.