Brand-Agnostic Solution Provides Accurate In-Cab Payload Measurement on Tractors, Forklifts and Skid Steers
SUNNYVALE, Calif., July 16, 2015 -- Trimble (NASDAQ: TRMB) announced today the availability of the Trimble S1100 onboard weighing system offering farmers and ranchers a high-accuracy solution for measuring and weighing hay bales and other livestock feed handled using a tractor, forklift or skid steer. With highly accurate weight measurements available to the operator in the cab, farmers can better control the quantity and cost of hay bales and other livestock materials in their operations. The S1100 is another tool within Trimble's farm management solutions enabling farmers to transform real-time field information into better decisions.

The S1100 calculates weight by measuring hydraulic pressure changes on tractors or skid steers. Payload weights and bucket counts are clearly displayed in real time to the operator in the machine cab. The S1100 is designed as a brand-agnostic, aftermarket solution that is compatible with most makes and models of tractors, forklifts and skid steers. It enables producers to:
* Maximize livestock weight by preventing over/under feeding
* Control feed costs by accurately measuring and managing feedstuffs
* Eliminate waste and overage in feed batching and grain hopper loading operations
* Weigh incoming/outgoing livestock feed for accurate invoicing and record keeping
* Reduce potential overpayments by identifiying wet hay bales early
"The big advantage of the S1100 weighing system is being able to consistently measure the feed that the livestock are being fed to prevent over and under feeding," said Erik Ehn, director of product marketing for Trimble's Agriculture Division. "In addition, the system can provide accurate weight information to ensure that the producer pays only for the quantity of feed they are actually receiving."
With the S1100 weighing system, farmers can use up to nine individual attachments including buckets, forks, hay squeezes, soft hands bale handlers and more.
Availability
Trimble S1100 weighing solution is available now for tractors, forklifts and skid steers from Trimble Agriculture resellers. For additional information on the S1100 weighing solution, visit: http://www.trimble.com/Agriculture/s1100-a.aspx. To find a Trimble reseller visit: http://dealerlocator.trimble.com.
About Trimble's Agriculture Division
Trimble Agriculture solutions enable customers to maximize efficiency and reduce chemical and fertilizer inputs while also protecting natural resources and the environment. Trimble's precision agriculture solutions cover all seasons, crops, terrains, and farm sizes, and its brand-agnostic strategy allows farmers to use Trimble products on most vehicles in their fleet—regardless of manufacturer. To enable better decision making, Trimble offers the Connected Farm™ solution which allows farmers to collect, share, and manage information across their farm in real time. To optimize water use, Trimble provides water solutions for irrigation, drainage, and land leveling. Trimble's product suite includes vehicle and implement guidance and steering, as well as a portfolio of correction options that are the most versatile of their kind in the industry. Additional solutions include an unmanned aircraft system (UAS) for aerial imaging and mapping; application control for seed, liquid, and granular products; a harvest solution; and farm management software.
For more information on Trimble Agriculture, visit: www.trimble.com/agriculture.
About Trimble
Trimble applies technology to make field and mobile workers in businesses and government significantly more productive. Solutions are focused on applications requiring position or location—including surveying, construction, agriculture, fleet and asset management, public safety and mapping. In addition to utilizing positioning technologies, such as GPS, lasers and optics, Trimble solutions may include software content specific to the needs of the user. Wireless technologies are utilized to deliver the solution to the user and to ensure a tight coupling of the field and the back office. Founded in 1978, Trimble is headquartered in Sunnyvale, Calif.
For more information, visit: www.trimble.com.
Featured Product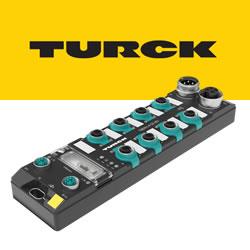 The new IP67 Managed Ethernet Switch from Turck provides standard and Gigabit ports in the same device. Configure, manage, and monitor connected machines and devices remotely, outside of a control cabinet. Find out more about this rugged solution for decentralized control. Part number TBEN-Lx-SE-M2. • Gigabit high-speed backbone for fast link-up times • Standard and Gigabit ports on the same device • Web-based diagnostic tools for preventive maintenance • Built-in security with the use of VLAN, NAT routing and firewall