Based in San Diego, California, Ocean Aero is designing unmanned surface vehicles that will also have the ability to descend subsea.
THOUSAND OAKS, Calif. - July 2, 2015 - Teledyne Technologies Incorporated (NYSE:TDY) announced today that it has invested additional capital and increased its ownership interest in Ocean Aero, Inc. to approximately 37 percent. Based in San Diego, California, Ocean Aero is designing unmanned surface vehicles that will also have the ability to descend subsea. Terms of the transaction were not disclosed.

Unlike traditional unmanned surface vehicles or autonomous underwater vehicles (AUVs), Ocean Aero is designing unmanned underwater and surface vessels (UUSVs) capable of operating in both surface and sub-surface environments. UUSVs would provide a unique set of capabilities to the scientific, defense, and oil and gas communities. For example, such vehicles would have efficient propulsion and communication while on the surface, and the ability to dive, allowing water column analysis, stealth and hazardous weather avoidance.
"The additional investment in Ocean Aero demonstrates our confidence in Ocean Aero's technology and leadership," said Robert Mehrabian, Chairman, President and Chief Executive Officer of Teledyne. "Ocean Aero's planned UUSVs complement Teledyne's broad portfolio of unmanned marine systems, including Gavia AUVs, SeaBotix remotely operated vehicles, and our market-leading autonomous gliding vehicles."
Teledyne Technologies is a leading provider of sophisticated instrumentation, digital imaging products and software, aerospace and defense electronics, and engineered systems. Teledyne Technologies' operations are primarily located in the United States, Canada, the United Kingdom, and Western and Northern Europe. For more information, visit Teledyne Technologies' website at www.teledyne.com.
Featured Product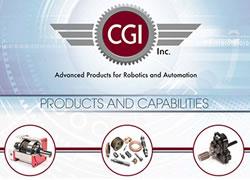 From Prototype to Production CGI Motion enables design excellence across a wide range of industrial applications. We thrive on customer driven innovation in precision gearbox, precision machined components and electro-mechanical assembly solutions ranging from aerospace systems to semiconductor applications. We are your design and manufacturing partner helping to differentiate your product, machine or innovation. Our team of problem solving engineers and product managers can bring your application to market on time and under budget. Whether it's an improvement on a current design or groundbreaking new designs, CGI has the know-how and team to enable design excellence. Connect with us today to explore what CGI Motion can do for you.