Hi-tech robotics lab uses Güdel TMO to extend robot work envelopes.
ANN ARBOR, MICHIGAN. Yaskawa Motoman's Great Lakes Regional Center in Rochester Hills, Michigan has added a new Güdel TrackMotion Overhead (TMO) to its lab for demonstrations of cutting-edge robotics technology in various material handling and removal applications. By utilizing Güdel's TMO, Motoman robot work envelopes are extended. This is ideal for processes like material handling, material removal and welding.

"We appreciate that Yaskawa Motoman values Güdel enough to let us help equip their hi-tech robotics lab in Rochester Hills," said Joe Campbell, Vice President, Güdel. "Güdel and Yaskawa Motoman work closely on projects that require linear motion for robots and this TMO was built during one of these collaborations."
Both companies offer application engineering, training, customer service and sales support, both have locations in more than 20 countries, and both have more than 50 years of experience in their respective specialties.
"Yaskawa Motoman and Güdel engineering teams work closely together to create custom rails, and we also use their standard rails. Güdel rails provide extended robot reach for applications like multi-machine load / unload, large part deburring and arc welding, which is one of our largest industry niches," said Roger Christian, Vice President Marketing & Development, Yaskawa Motoman. "We work with Güdel because of our common high quality standards and their willingness to modify their standard products for our specific needs."
About Yaskawa America, Motoman Robotics Division
Founded in 1989, the Motoman Robotics Division of Yaskawa America, Inc. (Yaskawa Motoman) is a leading robotics company in the Americas. With more than 300,000 Motoman® robots installed globally, Yaskawa provides automation products and solutions for virtually every industry and robotic application; including arc welding, assembly, coating, dispensing, material handling, material cutting, material removal, packaging, palletizing and spot welding. For more information please visit our website at www.motoman.com or call 937.847.6200.
About Güdel Inc.
Güdel Inc. is the US subsidiary of Güdel Group, a global manufacturer of robotic automation products, systems and services. Güdel supplies linear motion modules, robot track motion units, gantry robots and components to OEM's, systems integrators and machine builders serving the automotive, aerospace, logistics, heavy industrial and power generation industries. Güdel Inc. is located in Ann Arbor, Michigan in a dedicated 45,000 square foot facility, providing North American customers with engineering, design, production, and, customer service support. Güdel Inc. also operates a satellite engineering office in Troy, MI. For more information call 734.214.0000 or visit www.gudel.com/us.
Featured Product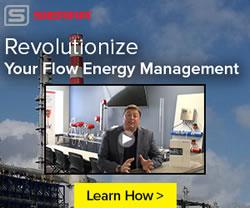 Sierra Instruments announces the launch of its new flow energy solution for managing and optimizing flow measurement for industrial facilities of all sizes. It features Sierra's QuadraTherm 640i/780i thermal flow meters, their InnovaMass 240i/241i vortex flow meters, and their new InnovaSonic 207i ultrasonic flow meter. Designed, built, and calibrated in the USA by Sierra, the Big-3TM share the same revolutionary Raptor firmware and many of the same software apps. They are a complete flow energy solution for flows like compressed air, natural gas, steam, and hot and chilled water. Together, they set a new standard in ease-of-purchase, performance, accuracy, reliability, and ease of use.