Colby to provide insight on UAV technology as a tool for agriculture industry as an Advisory Board member for SPAR Point Group's 2015 Commercial UAV Expo
Portland, Maine May 28, 2015

SPAR Point Group, organizer of Commercial UAV Expo, announced today that Chad Colby, owner of AgTechTalk and industry expert in UAV technology and agriculture policy, will join the 2015 Commercial UAV Expo Advisory Board. The inaugural event will take place October 5-7, 2015 at Caesars Palace in Las Vegas.
"We are very excited to have Chad Colby on board," said Lisa Murray, Event Director." "Mr. Colby is a wealth of knowledge on the impact of UAV technology on the agriculture community. His combined experience in aviation, technology and precision agriculture make him a valuable addition to the Commercial UAV Expo Advisory Board."
Currently, Mr. Colby serves as Product Support Lead for precision agriculture company, 360 Yield Center (360yieldcenter.com), which combines tools that sense a crop's needs with new tools that allow for more timely application of nutrient and plant health solutions. According to Mr. Colby, "it's relatively unknown among commercial growers that UAS will have the largest impact on our industry compared to any technology out there—by far. The biggest advantage to UAS is the speed at which growers can get their hands on data. In our industry, data is absolutely critical for making informed decisions. The faster we have it, the sooner we can react to it."
Mr. Colby has been active in providing the industry with a better understanding of unmanned aerial systems technology at events such as the Unmanned Systems 2015 Conference by AUVSI, the 2014 Precision Aerial Ag Show and Ag PhD Field Day at Hefty Farm. He also appears often on "This Week in Agribusiness" where he presents a segment called Ag Tech Talk.
"At Commercial UAV Expo, growers will be able to learn about the technology that will revolutionize modern agriculture and see it first-hand," said Mr. Colby. "I'm a passionate proponent of UAS for agriculture and am very pleased to be part of an event that is providing education and access for commercial uses of UAS."
Mr. Colby joins these other advisory board members, announced earlier in the year, who will lend their expertise and help shape the conference program:
* Iain Allen, Senior Manager - GIS, Barrick Gold
* Jon Amdur, Vice President-Manager, Unmanned Aerial Systems, AECOM
* Eric Andelin, LiDAR Services Technical Director, Michael Baker International
* Gabriel Dobbs, Director of Business Development and Policy, Kespry
* Patrick Egan, Editor in Field, Americas Desk, sUAS News
* Lewis Graham, President/CTO, GeoCue Group
* Thomas Haun, VP of Global Strategy, PrecisionHawk
* Dave Henderson, Director of Sales - Geospatial Solutions, Topcon Positioning Systems
* Jesse Kallman, Head of Business Development and Regulatory Affairs, Airware
* Bryan Leber, Operations Manager for Corporate Construction, Bechtel Global Corporation
* Mariah Scott, COO, SkyWard
* Curt Smith, Technology Director CTO Office, BP
* Colin Snow, Founder and CEO, Drone Analyst
* Keith Strier, Principal, Ernst & Young LLP
* Baptiste Tripard, Sales Manager, senseFly
* Peter van Blyenburgh, President, Unmanned Vehicle Systems (UVS) International
* Lucas van Oostrum, Chief Technology Officer, Aerialtronics
* Gregory S. Walden, Senior Counsel - Akin Gump Strauss Hauer & Feld LLP
About Commercial UAV Expo
Commercial UAV Expo is a conference and exhibition exclusively focused on the commercial sUAS (small Unmanned Aerial Systems) market in North America covering industries including Surveying & Mapping; Civil Engineering & Infrastructure; Mining; Construction; Process, Power & Utilities; Precision Agriculture; Law Enforcement, Security, Emergency Response, and more. It is organized by SPAR Point Group, a leading organizer of conferences and trade shows in the geospatial arena. It will take place October 5-7, 2015 at Caesars Palace in Las Vegas.
Featured Product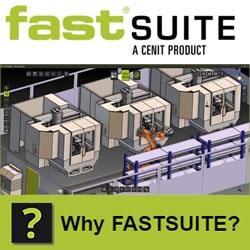 With two product lines, FASTSUITE for V5, which is seamlessly integrated with CATIA/DELMIA V5, and FASTSUITE Edition 2, a standalone platform, the areas of OLP (offline programming), manufacturing simulation and virtual commissioning are the core of our business activities. Our applications and solutions are not only focused on real customer needs, but they are also designed to improve efficiency and quality of our customers' manufacturing processes. No matter if the process is just about offline programming of a single robot at a small job-shop company or about the validation of a complete production line at an Automotive or Aerospace OEM. We strive to ensure a constant quality of our services and to provide the best possible support to our worldwide customers. Therefore we have established three digital manufacturing hubs around the world. All our teams have a proven expertise on manufacturing process integration and profound IT implementation skills.