Milestones highlighted online and at 2015 trade shows
AUBURN HILLS, Mich., May 5, 2015-- DE-STA-CO is marking its centennial this year with celebrations at trade shows, a new microsite and a retrospective video that shows how the company has grown to become a global workholding and automation leader. The yearlong festivities kicked off at Automate in March, where historic products and literature were on display in the DE-STA-CO booth.

"DE-STA-CO's 100-year history includes many milestones that we are going to recognize online and at industry events," says Darren Greene, director, global marketing and business intelligence for DE-STA-CO. "But that doesn't mean we've stopped innovating. In 2015, we'll continue to develop new products and create individualized solutions for our customers' unique manufacturing needs. This company has evolved from a single shop to a worldwide leader, and it will continue to adapt to industry changes."
Founded by William H. Roberts in 1915 as the Detroit Stamping Company, DE-STA-CO initially provided the rapidly growing automotive industry with contract stamping as well as die and machining services. To help manufacturers hold auto bodies and other materials in place on the production line, the Detroit Stamping Company designed and patented the world's first manual toggle clamp in 1936.
International expansion began in 1958 when the Detroit Stamping Company opened a sales and manufacturing facility in Germany. Four years later, the company was acquired by Dover Corporation. It was at that time that the Detroit Stamping Company name was shortened to DE-STA-CO.
DE-STA-CO expanded into the Asian market in 1984 by opening a sales and manufacturing facility in Thailand. After that, its growth accelerated through the acquisitions of several companies in the automation, robotics, aerospace, life sciences and nuclear fields. Today, DE-STA-CO has operations in the United States, Brazil, China, France, Germany, India, the Netherlands, Thailand and the United Kingdom.
While DE-STA-CO still manufactures its groundbreaking manual toggle clamps, its product line now also features robotic end effectors, power clamps and other automation tools. The DE-STA-CO family of brands includes Robohand gripping solutions, CAMCO indexers and Central Research Laboratories (CRL) remote handling equipment.
Additional information and historic photos are available on DE-STA-CO's centennial microsite at www.destaco100.com. For those who missed the anniversary celebration at Automate, DE-STA-CO will again provide refreshments, giveaways and entertainment in its booth at the ASSEMBLY Show and FABTECH this fall.
To learn more about the full line of workholding and automation solutions offered by DE-STA-CO, visit destaco.com or call (888) DESTACO (888-337-8226). DE-STA-CO is also active on Facebook, facebook.com/destaco and Twitter, @destacochat.
About DE-STA-CO
Celebrating 100 years of innovation in 2015, DE-STA-CO is a global automation and workholding company that provides productivity solutions to the manufacturing industry. Quality and service have helped DE-STA-CO evolve from a single stamping shop into a leader in the design and manufacture of cost-reducing, flexible products. With operations in the United States, Brazil, China, France, Germany, India, the Netherlands,
Featured Product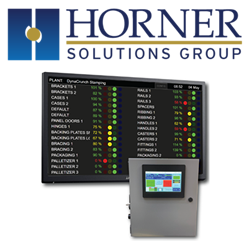 Horner Solutions Group offers a pre-programmed solution that is fast and easy to implement. No development on the user end, just a simple setup on the touchscreen and you can start monitoring and collecting data in minutes. With the ever-growing need for production data in the industry, we wanted to help bridge the gap for many production companies to be able to start collecting accurate and functional OEE (Overall Equipment Effectiveness) data within just a few minutes of setup, as opposed to the weeks/months many companies spend developing their own solution from scratch. For any customers that may have a need outside of the typical product mold, we also offer engineering services for custom hardware and software solutions of various types.