ULC Robotics Inc.s CISBOT technology is being used to make critical repairs in live cast iron gas mains without excavations and cessations of service.
Hauppauge, New York April 16, 2015

ULC Robotics, Inc., a leading robotics, energy services and research and development company focused on the energy and utility industries, has deployed its advanced Cast Iron Joint Sealing Robot (CISBOT) technology into a live, large diameter cast iron gas main for National Grid in the Bay Ridge area. Unlike other methods of rehabilitating or replacing cast iron gas mains, ULCs CISBOT technology enables gas utilities to repair leak-prone joints while minimizing excavation and disruption to the public.
ULCs CISBOT seals gas mains by internally drilling and injecting each joint with a sealant using a method that has been proven by Cornell University studies to last for 50 years. The robot enters the gas main through a small excavation to seal up to 1,500 feet - or three average city blocks - of gas main line from that single excavation.
By using ULCs CISBOT technology, non-intrusive work performed on live gas mains means local residents and businesses benefit because their gas services remain intact and online during the procedure without costly and disruptive shutdowns. ULCs advanced robotic system makes quiet work of critical repairs to National Grids gas distribution system.
"Gas utilities go to great lengths to make pipeline safety and reliability a top priority," said Gregory Penza, President of ULC Robotics. "CISBOT technology helps gas utilities such as National Grid maintain the safety and reliability of large diameter cast iron gas mains by renewing the joints, where methane gas is most likely to escape."
While this deployment of CISBOT at the intersection of 64th Street and 17th Avenue in Brooklyn, New York, marks the first deployment of this robotic technology for National Grid in New York since 2010, the gas utility has been consistently using CISBOT to seal joints in the Boston, Massachusetts operating area since 2011.
About ULC Robotics, Inc.
ULC Robotics develops and deploys innovative technology and processes that help pipeline operators and energy companies repair, inspect and assess their infrastructure. The deployment of ULCs range of products and services works to eliminate costly and disruptive excavation while eliminating gas leaks, reducing greenhouse gas emissions and improving efficiency. Both ULC Robotics and their clients have shared accolades for developing some of the most innovative products in the energy industry. Recognition includes a 2014 Energy Innovation Award for enabling gas utilities to deliver a safe and reliable supply of energy to customers and inclusion on the 2014 Top 50 Global Robotics Companies by Robotics Business Review.
Featured Product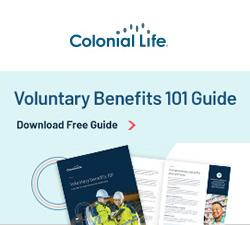 If there was ever a time to add voluntary benefits to your employees' compensation package, this is it. The tight labor market combined with supply chain bottlenecks, continued COVID-19 outbreaks, rising input costs and workforce challenges have helped drive a national trend of record high turnover rates for the manufacturing sector, making it imperative to evaluate compensation and benefits packages to remain competitive. The voluntary benefits 101 guide for manufacturers provides practical information about voluntary benefits without the jargon or complicated details. Download the guide.