YuMi's unveiling at the Hannover Messe next week heralds a new era of robotic coworkers capable of working collaboratively with humans while ensuring their safety
Hannover, Germany, April 8, 2015 - Four decades ago, ABB introduced the first microprocessor-controlled robot to the world. Today, ABB is again shifting the paradigm with YuMi, the world's first truly collaborative dual-arm industrial robot. YuMi's arrival will fundamentally expand the types of industrial processes that can be automated to encompass small-parts assembly that is prevalent in the electronics industry. YuMi makes collaboration between humans and robots a reality. A new era of robotic coworkers has arrived.

ABB is a leading supplier of industrial robots, modular manufacturing systems and service. A strong focus on solutions helps manufacturers improve productivity, product quality and worker safety. ABB has installed more than 250,000 robots worldwide.
The ABB Group (www.abb.com) of companies operates in around 100 countries and employs about 140,000 people. It is a leader in power and automation technologies that enable utility and industry customers to improve performance while lowering environmental impact.
Featured Product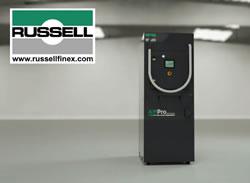 The Russell AMPro Sieve Station™ guarantees the quality of your additive manufacturing (AM) powder, and has been designed to provide optimum sieving efficiency, ensuring your powder is ready for use or reuse as and when you require it. With a simple one-button operation and mobile design, this automated check screener ensures your powder at every stage of the process is qualified for use quickly and safely. The flexibility of the Russell AMPro Sieve Station™ means you can use the system for numerous powder handling tasks - being a modular design ensures the machine can be configured to meet your exact requirements.