Discover innovative robotics in space and cost saving applications in the KUKA Robotics booth # 7271 at NPE 2015 Orlando, FL March 23rd – March 27th 2015
SHELBY TOWNSHIP, Mich. & ORLANDO, Fla.--KUKA Robotics will exhibit among over 2000 world-class plastic industry suppliers at NPE 2015 Orlando in booth 7271. NPE is recognized as the worlds largest plastics trade show and conferences.

KUKA Robotics will showcase innovative robotic solutions for the Plastics Industry with the following live in-booth robotic demonstrations:
Robotic Injection Molding Demonstration
In a simulated injection molding machine loading and unloading demonstration the KR AGILUS KR 6 R700 will be reaching deep into the injection molding system loading and unloading plastic parts. The KR AGILUS is unique in its payload category; setting new standards with 6 axes, very high speeds, short cycle times, and integrated energy supply system and with its universal mounting the KR AGILUS can be mounted floor, wall or ceiling - models available are the KR6 R700, KR6 R900 and the KR10 R1100.
Precision Micro Cleaning Demonstration
Also featured will be a Precision Micro Cleaning Demonstration cell featuring a new CO2 based precision micro cleaning technology in a solution designed and provided by KUKA Robotics System Partner Reliabotics. The cell utilizes an AGILUS KR 6 R900 in the Reliabotics Fortimo MPP (multi-purpose platform) cell which is an innovative surface cleansing application with zero waste.
Trimming, Deburring, Deflashing, Degating and Polishing
A robotic demonstration designed and provided by KUKA Robotics System Partner Robotics Solutions, Inc. will feature a KR AGILUS KR10 R1100 with unlimited possibilities for trimming, deburring, deflashing , degating and polishing plastic parts. This off-line programmable robotic solution has an extremely small footprint of 35 square feet and runs on 240 VAC and 30A power, requires no installation and is turn key and ready to hit the shop floor running.
KUKA KORE for STEM Education
Check out hands on learning with KUKA KORE the KUKA Official Robotic Education Package for STEM Education. The KUKA Robotics KORE program offers high schools, technical centers, community colleges and universities the opportunity to incorporate Certificate based robot education on KUKA products into their STEM, Advanced Manufacturing and Mechatronics programs. With the KUKA KORE package, students will learn basic robot programing and operation skills on exercise hardware utilizing the same robots and control technology utilized in a variety of industries. Put KUKA at the KORE of your STEM program!
Live on the NPE show floor Dyco, Inc a KUKA Robotics System Partner will feature a KR 180 PA palletizing robot in booth W-1391. This system designed by Dyco, Inc will show a robotic driven tray packing system with an integrated bottle inverter on a feed conveyor. The solution is designed for eliminating extra steps in the repacking process thus reducing cycle times.
In addition on the show floor a KR AGILUS KR6 R900 will be displayed in a fully automated surface treat solution in the Plasmatreat North America, Inc. booth W-8078. The robotic solution designed by Plasmatreat works to prepare surfaces such as SMC, Carbon Fiber and Molded Plastic parts for production in bonding, coating, painting and printing applications onto the mentioned surfaces. The process is UL/CSA certified and OS9000 compliant.
Featured Product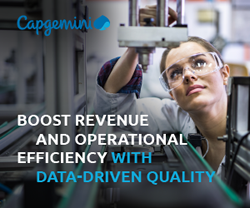 A reactive manufacturing cycle of building, inspecting, and correcting is no longer sufficient to meet rising customer wants and demands. To break this ineffective cycle, organizations must have a robust data-driven solution that combines a proactive focus on quality with integrated analytics and automation capabilities to turn quality control from a liability into an asset.