The technology is the first of its kind available in North America.
CHICAGO, March 23, 2015 - For the first time, global automated systems provider Harry Major Machine (HMM) is displaying a new cable-less robot gantry technology for the manufacturing industry at its booth (#1024) during Automate 2015 in Chicago this week. The technology is the first of its kind available in North America.

As a leader in the design, manufacture, installation and support of custom automated systems and machines for manufacturing companies around the globe, HMM is the exclusive provider in North America for the state-of-the-art cable-less gantry, which is made by MaxRoTec Co Ltd., a world leader in gantry robots and a HMM partner since 2014.
"The benefits that the cable-less gantry system provides to our customers are numerous," said H. Curtis Major, President, HMM. "The system is not only compatible with a variety of robot technologies, it also has a compact footprint and helps to lower maintenance and infrastructure expenses. The system is a speedy, reliable workhorse that maximizes productivity while reducing downtime."
With the cable-less gantry, power is supplied to the system via an insulated trolley and collector arm and its communication is powered by an optical Ethernet transmitter using infrared light. The system can work at faster speeds than traditional cabled gantries and has the ability to handle up to five carriages on a single track.
The line configuration and programming are easy to change, since no cable-laying is required, even if the beam length is changed due to line modification. Since no cable track and guarding is needed and multi-carriages can be handled on a single track, less space is required for the system, which allows for a more compact line configuration.
The system is compatible with a variety of robot technologies such as ABB, Fanuc, Kawasaki, Kuka, Nachi and Yaskawa Motoman and can be utilized by manufacturers in various industry sectors in their operations.
HMM is also highlighting several of its other technologies at Automate 2015, including its solutions in the areas of automated parts handling systems, robot integration, industrial parts washers and assembly machines.
Automate is the largest solutions-based showcase of automation technologies in North America. The show is held once every two years and demonstrates the full spectrum of automation technologies and solutions for a broad array of industries. Attendees will be able to view live demonstrations from leading global suppliers that provide integration of automation, robotics and machine vision. Comprehensive educational conferences will also be presented. For more information about the show or to register for free, please visit: www.automateshow.com
About Harry Major Machine
Founded in 1962 and headquartered in Clinton Twp., Mich. with a European division based in the United Kingdom, HMM provides custom, complete automated systems to manufacturing companies around the globe. HMMs custom solutions range from robot integration, assembly systems, conveyors, washers and dunnage handling systems. The companys systems are supported by HMMs system engineering and integration, mechanical design, controls design, and equipment installation services. Learn more at http://www.harrymajormachine.com/
Featured Product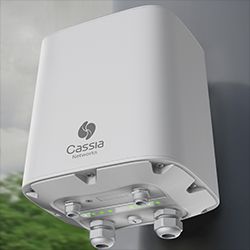 Cassia works with smart IIoT equipment manufacturers to help them overcome their challenges and to provide the competitive edge they need to reach their business goals. We provide companies in various IIoT sectors with a comprehensive suite of enterprise Bluetooth IoT products and solutions they need to enable smart IIoT solutions such as Condition Monitoring, Predictive Maintenance as well as Personnel and Asset Tracking solutions. Cassia's long-range Bluetooth gateways are uniquely designed for today's Industrial IoT enterprises to provide the scalability, flexibility and ease of deployment needed to reduce costs and achieve greater ROI.