Datalogic will be exhibiting in booth #682 at Automate 2015, the largest solutions-based showcase of automation technologies in North America, held March 23-26 at Chicago's McCormick Place
Telford, PA March 18, 2015

Datalogic, a global leader in Automatic Data Capture and Industrial Automation markets, will be exhibiting in booth #682 at Automate 2015, the largest solutions-based showcase of automation technologies in North America, held March 23-26 at Chicago's McCormick Place. At this show, Datalogic will unveil the UniQ laser marker; the industrys first compact all-in-one fiber laser marker.
The UniQ laser marker combines a compact form factor with superior laser marking performance. Embedded in compact mechanical dimensions are the fiber laser source, power supply, and a fully operational controller. Packaged into a stylish and robust housing the UniQ laser marker delivers the industries best cost / watt marking solution.
"Datalogic has historically provided customers with solutions purpose-built to simplify installation and reduce cost, and were excited to feature two of our latest products setting a new standard in both - our UniQ laser marker and P-Series smart camera", comments Mark Kremer, Vice President of Machine Vision and Laser Marking at Datalogic. "Unlike any other product available on the market, the UniQ laser marker greatly reduces the complexity of adding marking capabilities to any production line. Using Datalogics proprietary fiber laser technology, the UniQ laser marker provides customers with the best cost per watt ratio for their production lines."
The P-Series smart camera will be performing OCR on expiration dates as a part of a live conveyor demonstration designed to simulate bottles in a production line. The conveyor will also feature inspection and traceability solutions via Datalogics pattern sort technology, cap detection and fluid level detection. A comprehensive Mark & Read solution - integrating Datalogics AREX laser marker, Matrix 300 fixed mount bar code reader, A30 Smart Camera and PowerScan DPM handheld bar code reader - as well as a 3D vision demonstration will be showcased in booth 682.
On Tuesday, March 24, at 1 PM Bradley Weber, Global Application Engineering Manager at Datalogic, will lead an Expert Huddle titled: Smart Sensors vs. Smart Cameras vs. Vision Processors. This group discussion is geared at technical education through knowledge experience sharing in a dynamic and relaxed setting.
Datalogic will also be exhibiting at ProMat in the South Hall in booth 1119.
Datalogic Group is a global leader in Automatic Data Capture and Industrial Automation markets. As a world-class producer of bar code readers, mobile computers, sensors, vision systems and laser marking systems, Datalogic offers innovative solutions for a full range of applications in the retail, transportation & logistics, manufacturing and healthcare industries. With products used in over a third of worlds supermarkets and points of sale, airports, shipping and postal services, Datalogic is in a unique position to deliver solutions that can make life easier and more efficient for people. Datalogic S.p.A., listed on the STAR segment of the Italian Stock Exchange since 2001 as DAL.MI, is headquartered in Lippo di Calderara di Reno (Bologna). Datalogic Group as of today employs about 2,400 members of staff worldwide distributed in 30 countries. In 2013 Datalogic Group achieved revenues for 450,7 million Euro and invested over 35 million Euro in Research and Development with a portfolio of over 1,000 patents across the world. For more news and information on Datalogic, please visit http://www.datalogic.com.
Datalogic and the Datalogic logo are registered trademarks of Datalogic S.p.A. in many countries, including the U.S.A. and the E.U. UniQ and P-Series are trademarks of Datalogic Automation Srl. PowerScan is a registered trademarks of Datalogic ADC Inc. in many countries, including the U.S.A. and the E.U.
Featured Product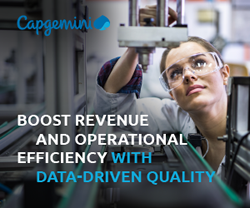 A reactive manufacturing cycle of building, inspecting, and correcting is no longer sufficient to meet rising customer wants and demands. To break this ineffective cycle, organizations must have a robust data-driven solution that combines a proactive focus on quality with integrated analytics and automation capabilities to turn quality control from a liability into an asset.