The 30th edition of the Show was the fourth largest IMTS in history and the largest six-day Show ever with registration of 114,147 representing 112 countries.
McLean, Va., (March 5, 2015) - Based on research following IMTS - The International Manufacturing Technology Show 2014, Show Management reports very strong results and long term benefit for the manufacturing technology industry. The 30th edition of the Show was the fourth largest IMTS in history and the largest six-day Show ever with registration of 114,147 representing 112 countries. This was a 13.9 percent increase over IMTS 2012. IMTS covered more than 1,282,914 million net square feet of exhibit space and hosted 2,035 exhibiting companies.

A full 93 percent of visitors reported that they found new products and ideas to use at IMTS.
An estimated $2.7 billion in future sales will result from the Show. Half of the visitors planned on making a purchase in the six months following IMTS and 85 percent said they planned to make a purchase before IMTS 2016.
When asked why they visit IMTS, 71 percent of visitors said to see new products while 74 percent said to see specific exhibits and 57 percent went to see the varieties of technology. Another 86 percent said they found solutions to specific manufacturing problems they came to solve and 64 percent of visitors reported making new business contacts during their Show visit.
"IMTS 2014 was a highly successful place to conduct business for both visitors and exhibitors," said Peter Eelman, AMT - The Association For Manufacturing TechnologyVice President - Exhibitions and Communications. "We have historically found that for many companies the leads they gain at IMTS fill their pipeline for the two year Show cycle. These very strong projected future sales resulting from the Show are a solid indicator of the importance of manufacturing in the world economy. Our findings track with other industry research resources who are citing significant growth in automotive, aerospace, medical, and gas and oil which bodes well for manufacturing technology and related sales leading up to IMTS 2016."
The industry groups represented ranged from metalworking machinery and equipment to job/tool/mold and die shops, plus all categories of durable goods manufacturing.
The make-up of IMTS visitors included corporate management (25 percent), manufacturing/production management (16 percent), manufacturing/production engineering (13 percent) and manufacturing/production engineering management (8 percent). The reported plant size for visitors by number of employees ranged widely with 23 percent having less than 20, 19 percent with 20 to 49, 14 percent with 50 to 99, 27 percent with 100 to 499, 7 percent with 500 to 999, and 10 percent with 1,000 or more.
"IMTS was certainly a showcase for exciting emerging technologies like 3D printing, but we also saw that the product categories of great interest continue to be machining centers, turning centers and lathes, and tools and tooling," Eelman said. Interest in IMTS and the technology showcased there has continued unabated since the Show concluded. The 3D printed "Strati" car created in the Emerging Technology Center was even featured on NBCs Today Show in October. Looking ahead, IMTS 2016 advance space reservations are on track to exceed 2014 exhibit space," Eelman concluded.
IMTS 2016 will be held at Chicagos McCormick Place Sept. 12-17, 2016.
Visit IMTS.com to get a copy of the report: http://www.imts.com/show/PostShowReport2014.pdf
Conversations within the IMTS community are continuing on social media:
@IMTS_2016 or #IMTS
The IMTS LinkedIn Group
Facebook
IMTS - International Manufacturing Technology Show
The largest and longest running manufacturing technology trade show in the United States is held every other year at McCormick Place in Chicago, Ill. IMTS 2016 will run Sept. 12-17. IMTS is ranked among the largest trade shows in the world. Recognized as one of the worlds preeminent stages for introducing and selling manufacturing equipment and technology, IMTS attracts more than 114,000 visitors from every level of industry and more than 112 countries. IMTS is owned and managed by AMT - The Association For Manufacturing Technology. www.IMTS.com
AMT - The Association For Manufacturing Technology represents and promotes U.S.-based manufacturing technology and its members—those who design, build, sell, and service the continuously evolving technology that lies at the heart of manufacturing. Founded in 1902 and based in Virginia, the association specializes in providing targeted business assistance, extensive global support, and business intelligence systems and analysis. AMT is the voice that communicates the importance of policies and programs that encourage research and innovation, and the development of educational initiatives to create tomorrows Smartforce. AMT owns and manages IMTS — The International Manufacturing Technology Show, which is the premier manufacturing technology event in North America. www.AMTonline.org
Featured Product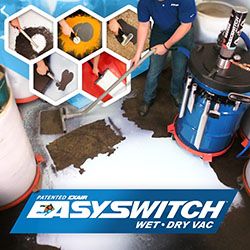 Hazardous Location Cabinet Coolers are available for use with Class I classified enclosure purge & pressurization systems. UL Classified HazLoc Cabinet Coolers are a reliable way to cool and purge electronic control panels. Protect your enclosures! https://exair.co/184_542