The robot will be delivered to the customer in 2016.
PARIS — March 5, 2015 — The ECA Group announces the sale of the first next-generation A18 autonomous underwater robot for several million euros. The robot will be delivered to the customer in 2016.

After several successful A9 orders in 2013 and 2014, this export sale is a first for the ECA Groups latest autonomous underwater vehicle (AUV). The sale was made shortly after the vehicle was marketed in October 2014, even before the end of the development stage.
It confirms customers' growing interest in long-range AUVs that are more compact due to the miniaturization of sensors and embedded equipment.
The A18D robot is able to travel underwater for more than 24 hours and up to 3,000 meters in depth. Equipped with next-generation sensors and with the latest software technology in terms of missions, the robot has the best operational capacity for hydrographic surveys, oceanographic research, exploitation of the natural resources of the seabed, and even search and rescue operations.
The ECA Group's range of AUVs
The ECA Group has a full range of AUVs, spanning from the most compact (A9) to the largest versions (A27 and ALISTAR3000). They all share the same IT architecture, autonomous software and supervision interface.
The A9 range is a recent line of small AUVs of between 50kg and 120kg. Available since the end of 2012, they can be put into operation by two people without any particular method of launching the vehicle. The French Navy has been equipped with an A9 AUV since 2013. Three other countries purchased one in 2014. They are well suited to coastal and harbour surveillance. The catalogue price for A9 vehicles ranges from €0.5 million to €2 million.
The new A18 range comprises robots of 350kg to 650kg that can operate at depths of up to 3,000 meters. They represent ECA Group's new mid-range AUVs. The A18 is sufficiently effective for our key customers' requirements. They can be deployed from a light naval platform from 12m, using different launching and retrieval systems also offered by ECA. The catalogue price of A18 AUVs ranges from €1.5 million to €5 million.
The A27 and ALISTAR3000 AUVs are the ECA Group's standard range. Developed between 2003 and 2013, they have substantial dive endurance (more than 30 hours) and great sensor-carrying capacity. They can be used in the most demanding operations. The French Navy uses the A27 AUV for hydrography and long-range underwater surveillance operations. The catalogue prices of these large AUVs range from €3 million to €9 million.
About Groupe Gorgé:
Established in 1990, Group Gorgé is an industrial group operating in different areas of expertise: Smart Safety Systems, Protection in Nuclear Environments, Industrial Projects & Services and 3D Printing
In 2013, the Group reported revenue of €214.5 million. It is backed by 1,300 employees and operations in over ten countries. Groupe Gorgé is listed on NYSE Euronext Paris (Paris: GOE) and on the US OTC market (Pink Sheets:GGRGY) (Pink Sheets:GGRGF) in the form of ADR.
More information available on www.groupe-gorge.com
Featured Product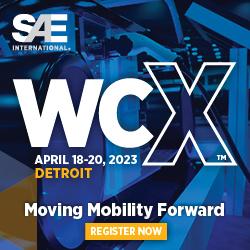 The largest technical mobility event in North America returns to Detroit from April 18-20, 2023. Join thousands of engineers, executives, suppliers, academics and R&D professionals for WCX™ World Congress Experience to exchange ideas, discuss today's challenges, and build powerful relationships to move your career and the mobility industry forward. Register today at sae.org/wcx.