California-based Pertexa launches advanced medical technology in robotics and medical productivity software highlighting the state's status as tech leader
RIDGECREST, Calif., Feb. 5, 2015 -- Pertexa Inc., a medical technology company based in Ridgecrest, California, nestled just northeast of the aerospace corridor along highway 14, is making a name for itself in the high-stakes tech world of telehealth and medical productivity software.

The emerging med-tech company has launched a versatile and robust machine called RITA (Robotic Intelligent Telehealth Assistant) which is a cross between a robot and a media wall that uses high-speed components, high-definition monitors and wireless technology to improve productivity of doctors in both hospital and clinic settings.
According to Dr. Earl Ferguson, Medical Director of Pertexa, says the new innovations are something the industry has been waiting for. "Providers have been waiting for information technologies that are more intuitive, simpler and interoperable." Pertexa's RITA promises to deliver an experience that doctors can easily use, while complying with regulatory documentation required in the medical landscape.
While the popular da Vinci surgical system, which was developed in Sunnyvale, CA, has received recognition from both consumer and medical circles, RITA will certainly garner considerable attention for its next-generation abilities. "RITA's launch marks another significant milestone in Pertexa's transformation, and we anticipate a high demand for our telehealth and software offerings," says Pertexa president Kishor Joshi.
RITA will allow physicians more flexibility in assisting and treating patients remotely. RITA can also make a huge difference in treating and diagnosing highly communicable diseases like Ebola, and in high-risk situations like bioterrorism.
With the medical community feeling the heat from myriad regulatory hurdles and responsibilities, including Meaningful Use and the ICD-10 transition, innovative companies like Pertexa, have an added competitive edge that is simultaneously creating jobs and opportunities in the Indian Wells Valley region.
Ridgecrest, while seemingly remote, has a large brain trust of scientists and research opportunities thanks to its proximity to a local naval base, a vital resource for Pertexa and other small companies looking to become a key player in the MedTech boom. Ron Kicinski, CEO of TOSS Inc, a staffing service company located in Ridgecrest, sees Pertexa as an essential component in a long-term job creation strategy in the region. "The success of Pertexa depends equally on the pool of available workers we have in our valley, and is part of the formula that will make the company strong and economic growth of the region possible."
As regulatory changes drive technological solutions, Pertexa's software and hardware agility give the company the unique opportunity to provide next generation solutions that work across multiple platforms because they are considered "wrapper technologies," meaning that the solutions work regardless of the existing EHR infrastructure. This technological dexterity gives Pertexa an edge over older and less robust systems.
And the evolving face of medicine continues its technological DNA in California, where it all began.
Featured Product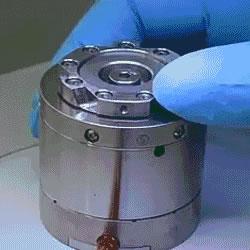 A traditional gantry system employs X-Y or X-Y-Z range of motion. Mounted on a base plate, usually granite, 2 parallel rails constitute the synchronized Y axis motion while the cross axis (bridge axis) provides the X motion. A vertical axis can be added on the bridge for the Z motion. A Split Bridge system can be less complex than a traditional gantry system because synchronization of the two parallel linear motors is not required. Both systems are used in industrial production, testing, and additive manufacturing.