Sumer is latest addition to the Güdel Group
ANN ARBOR, MICHIGAN. Güdel, a leading supplier of linear, drive and system technology, has acquired Sumer, a French manufacturer of high-performance planetary gearboxes. This extends the range of Güdel products for linear motion. The new company operates under the name of Güdel Sumer.

Güdels strategy is to provide a comprehensive line of components, products, modules and completely, vertically integrated linear motion technology from a single source. Planetary gearboxes from Güdel Sumer have precision load sharing attributes for extreme radial/axial loads to eliminate backlash for processes with dynamic kinematics. Combined, Güdel Sumer has access to new markets and additional growth opportunities. Mr. Nicolas Laval, a Sumer veteran of long-standing is CEO of the new subsidiary. Growth in commercial operations and workforce expansion are priorities under his leadership.
This acquisition merges two family-run companies that share common values, such as individual responsibility, sustainability, innovation and quality.
About Güdel Inc.
Güdel Inc. is the US subsidiary of Güdel Group, a global manufacturer of robotic automation products, systems and services. Güdel supplies linear motion modules, robot track motion units, gantry robots and components to OEMs, systems integrators and machine builders serving the automotive, aerospace, logistics, heavy industrial and power generation industries. Güdel Inc. is located in Ann Arbor, Michigan in a dedicated 45,000 square foot facility, providing North American customers with engineering, design, production, and customer service support. Güdel Inc. also operates a satellite engineering office in Troy, MI.
Güdel Group was founded in 1954. Headquartered in Langenthal, Switzerland, today Güdel operates in 21 locations worldwide.
Featured Product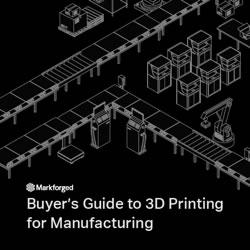 3D printing has become a powerful force in today's manufacturing industry from prototyping to tooling and fixtures to custom, end-use parts. Many businesses struggle to find the right solutions to fit their needs and provide ROI. Selecting the right platform to prevent manufacturing roadblocks is vital to optimizing your manufacturing line productivity. Download the all new buyer's guide to help you evaluate the benefits of 3D printing and dispel misconceptions, understand the pros/cons of various 3D printing processes and materials, and assess the key considerations in selecting a 3D printer.