eCobra robot models are available in 600-mm and 800-mm-reach configurations.
Pleasanton, Calif., January 29, 2015 - Adept Technology, Inc. (Nasdaq:ADEP), a leading provider of intelligent industrial and mobile robots and services worldwide, today announced that it has launched the Adept eCobra family of SCARA robots in North America. This new generation of Cobra 4-axis robots provides users with Adept's advanced SCARA robotics in a controller-less architecture and industry-first, performance-based pricing.

"Our new eCobra robot family leverages the advantages of Adept's established Cobra products, such as reliability, high performance and powerful controls, and combines them with advancements such as a controller-less design, bringing to market the best performance at every price point," said Yan Banducci, senior product line manager of Industrial Robots at Adept.
Adept eCobra robots are available in three performance tiers - eCobra Lite, eCobra Standard, and eCobra Pro - each designed to address different application complexity and throughput requirements. eCobra robots provide maximum value by ensuring users only pay for the level of performance their application needs.
eCobra robot models are available in 600-mm and 800-mm-reach configurations. eCobra robots run on Adept's powerful eV+ operating system, and their fully embedded controls save valuable floor space and simplify installation. Applications include mechanical assembly, material handling, packaging, and other processes that require fast, precise automation.
About Adept Technology, Inc.
Adept is a global, leading provider of intelligent robots, autonomous mobile robot solutions, and services that enable customers to achieve precision, speed, quality and productivity in their assembly, handling, packaging, testing, and logistical processes. With a comprehensive portfolio of high-performance motion controllers, application development software, vision-guidance technology and high-reliability robot mechanisms with autonomous capabilities, Adept provides specialized, cost-effective robotics systems and services to high-growth markets including medical, electronics, food and semiconductor; as well as to traditional industrial markets including machine tool automation and automotive components. More information is available at www.adept.com.
Featured Product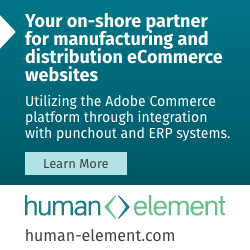 With Human Element, you will build a strategic partnership with experienced on-shore strategists and developers who understand the pain points unique to manufacturers and distributors. Using Agile methodologies and proven eCommerce website development strategies, our team positions clients for success.