Renowned for its outstanding performance and quality, the footprint of the IRC5C is now up to 25 percent smaller than the original compact model
UBURN HILLS, Mich. (January 28, 2015) - ABB Robotics has unveiled the second generation of its IRC5C compact controller; now up to 25% smaller than the original compact model, and 87% smaller than the standard cabinet controller. A full-fledged member of the IRC5 family of industrial robot controllers, the IRC5C comes equipped with the majority of the functionality and benefits of its larger counterpart, with a compact footprint of 310h x 449w x 442d mm (12.2"h x 17.7"w x 17.4"d).

The new IRC5C also comes equipped with a clean operator panel, and improved cable connections for easier access and use. There are now, for example, external connectors for all signals, and a built-in, expandable 16-in, 16-out I/O system.
"The design team has delivered a more compact IRC5C, with many significant accessibility improvements and a more powerful CPU," said Nick Hunt, product technology manager, ABB Robotics. "Customers of our smaller robots will benefit from easier integration and exceptional versatility, while saving valuable space without sacrificing performance."
Despite its small size, the IRC5C retains the superior motion control of the IRC5, featuring TrueMove and QuickMove, central to the well-known performance of ABB robots in terms of accuracy, speed, cycle-time, programmability and synchronization with external devices. The controller also makes it exceptionally easy to quickly integrate additional hardware and sensors, such as ABBs Integrated Vision.
Featured Product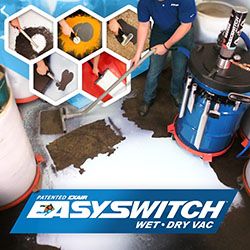 Be sure to attend the latest of EXAIR's webinars. Get educated on pneumatic industrial vacuums so you can break the cycle of replacing electric shop vacuums. Industrial environments often present a continual battle to keep them clean and safe. Unavoidable by-products of manufacturing processes include liquid and solids which often present hazards to personnel, products and processes. Solids may be trim, dusts, or chips from a manufacturing line; liquids may be coolant spills, coating overspray, or even burst packages. Cleaning up these materials often falls on the operators of the equipment who need reliable, adaptable, safe and effective tools for cleanup. Supplying them with tools which fail frequently or do not meet the requirements of the safety team is a recipe for disaster. Attend this webinar to gain an understanding of how pneumatic vacuums can reduce the maintenance, increase reliability, and improve flexibility for your facility. Attend live on May 24th at 2 p.m.