The new catalog (application guide) is available for free download and on flash drive by request.
Güdel Inc. introduces an updated 2015 modules catalog which also serves as a users a guide to application engineering. The new catalog (application guide) is available for free download and on flash drive by request.New 2015 Modules Catalog Available from Güdel

The new catalog provides stroke and drive data, bending and torsion values, dynamic payload capacity, speed, acceleration and other references to help with application engineering. Güdel offers assistance for motor sizing and gearbox ratios as well as cable management and protection.
North American customer service and support for Güdel linear motion comes from a 45,000 square foot manufacturing campus in Ann Arbor, Michigan and offices throughout North America. New products are slated for demonstration at trade shows in 2015 including a tour at McCormick Place in Chicago, Illinois USA with booths at Automate and FABTECH.
Güdel linear motion is in its third generation, and this updated catalog includes configurations for standard modules of TrackMotion, gantry and linear motion units in virtually any size and for all robots.
About Güdel Inc.
Güdel Inc. is the US subsidiary of Güdel Group, a global manufacturer of robotic automation products, systems and services. Güdel supplies linear motion modules, robot track motion units, gantry robots and components to OEMs, systems integrators and machine builders serving the automotive, aerospace, logistics, heavy industrial and power generation industries. Güdel Inc. is located in Ann Arbor, Michigan in a dedicated 45,000 square foot facility, providing North American customers with engineering, design, production, and, customer service support. Güdel Inc. also operates a satellite engineering office in Troy, MI.
Featured Product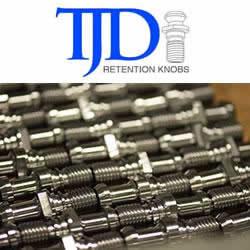 Our retention knobs are manufactured above international standards or to machine builder specifications. Retention knobs are manufactured utilizing AMS-6274/AISI-8620 alloy steel drawn in the United States. Threads are single-pointed on our lathes while manufacturing all other retention knob features to ensure high concentricity. Our process ensures that our threads are balanced (lead in/lead out at 180 degrees.) Each retention knob is carburized (hardened) to 58-62HRC, and case depth is .020-.030. Core hardness 40HRC. Each retention knob is coated utilizing a hot black oxide coating to military specifications. Our retention knobs are 100% covered in black oxide to prevent rust. All retention knob surfaces (not just mating surfaces) have a precision finish of 32 RMA micro or better: ISO grade 6N. Each retention knob is magnetic particle tested and tested at 2.5 times the pulling force of the drawbar. Certifications are maintained for each step in the manufacturing process for traceability.