Fast, efficient handling of sticky, green tires.
ANN ARBOR, MICHIGAN. Güdel introduces its new Green Tire Trays which are designed to eliminate damage during conveyor offload, and yet they allow tires to travel the conveyor at higher speeds compared to other trays. These trays can be installed directly into existing conveyor systems, and they work with all types of systems from roller to wide-belt or narrow-belt.

Remarkably rigid and light, Güdel Green Tire Trays have a load capacity of up to 30 kg with an external diameter of up to 900 mm. Integrated stiffening ribs keep distortion to an absolute minimum, and these injection-molded trays have no impurities. (Even the slightest impurity on conventional conveyor systems can have a negative impact on the quality of tires.)
The tray is tilted at 45° which provides optimum storage with no loss of quality. Tires can be deposited very precisely thanks to positioning accuracy of 1 mm. The trays can be fitted with RFID chips, which enable individual analysis and facilitate data tracking.
In order to make them more noticeable when used in visual identification systems, Güdel's Green Tire Trays are available in any color and empty trays are easily stackable.
Güdel debuts the new Green Tire Trays at Tire Technology Expo, February 10-12, 2015, Cologne, Germany, Hall 11.1, booth 3170.
About Güdel Inc.
Güdel Inc. is the US subsidiary of Güdel Group, a global manufacturer of robotic automation products, systems and services. Güdel supplies linear motion modules, robot track motion units, gantry robots and components to OEMs, systems integrators and machine builders serving the automotive, aerospace, logistics, heavy industrial and power generation industries. Güdel Inc. is located in Ann Arbor, Michigan in a dedicated 45,000 square foot facility, providing North American customers with engineering, design, production, and customer service support. Güdel Inc. also operates a satellite engineering office in Troy, MI.
Featured Product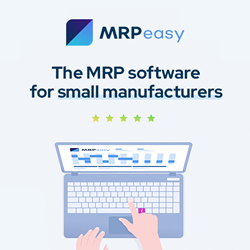 Always know what you have in stock and what you'll need to fulfill orders. Never forget to order parts on time or fail to notice a late delivery from your vendor. Easily create manufacturing orders and schedule them automatically according to resource availability or delivery deadline. Generate accurate cost and lead time estimates and provide customers with quick quotes. Receive notifications when orders are late or inventory levels reach a critical point. Ensure seamless communication between sales, production, warehousing, procurement, administration, and finance. Integrate with popular accounting, CRM, and e-commerce apps. MRPeasy is an ERP software for small manufacturers that gives you all that and more. Our users report a 54% average improvement in the overall performance of their business and a 42% increase in on-time deliveries. Try for free, no credit card needed.