The RoboGolfPro can dramatically improve any golfer's game in just minutes.
Orlando, Florida January 19, 2015

Orlandos PGA Merchandise Show typically hosts some pretty impressive new golf technology, but few are as impressive as the RoboGolfPro, which has been shown to dramatically improve any golfers game in just minutes.
The RoboGolfPro develops a customized swing for each player. You can discover the swing that works best for your body and store it in RGPs computer for future reference! The robot works so well because it relies on motor learning to train the golfer to automatically remember the correct swing form.
The robotic swing trainer has been grabbing the attention of professional golfers like Vaughn Taylor, who has found quick success from his training. He has even purchased one for his home. Scot W.R. Nei, founder of RoboGolfPro, who has partnered with Lori Heller, Heller Events, to distribute and sell the robot and events across North America and Europe, says, "Vaughn texts me all the time with comments like, 'I had my best round ever in over 6 years' and says that his swing is better than ever!"
RoboGolfPro is now available in 10 locations across North America and also in Germany. You can check it out for yourself at the PGA Merchandise Show at Booth 2259. The show runs from January 21- 23 at the Orange County Convention Centre in Orlando.
Featured Product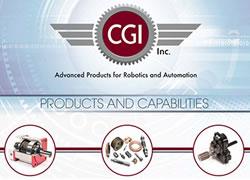 From Prototype to Production CGI Motion enables design excellence across a wide range of industrial applications. We thrive on customer driven innovation in precision gearbox, precision machined components and electro-mechanical assembly solutions ranging from aerospace systems to semiconductor applications. We are your design and manufacturing partner helping to differentiate your product, machine or innovation. Our team of problem solving engineers and product managers can bring your application to market on time and under budget. Whether it's an improvement on a current design or groundbreaking new designs, CGI has the know-how and team to enable design excellence. Connect with us today to explore what CGI Motion can do for you.