New Software-as-a-Service Solution Provides Easy, Scalable, Project-based Field Management
SUNNYVALE, Calif., Jan. 6, 2015—Trimble (NASDAQ:TRMB) announced today Trimble® ProjectSight™, a cloud-based solution for construction field management that simplifies the creation, access and sharing of project information between the field and the office. The new solution provides mobile workers with access to up-to-date project information and smart workflows for increased productivity and more informed decision making. Trimble ProjectSight allows contractors to lower software costs while enabling a wide team of collaborators to access the information they need.

Trimble ProjectSight is designed for contractors and construction managers who want an easy-to-use and cost-effective field management application. Accessible via a Web browser or an iPad app, ProjectSight features a simple, intuitive user interface overlaying smart, project-based workflows to keep teams in sync. Access to centralized data provides users with up-to-date information related to material tracking, issues reporting, information requests and critical project drawings, models and documents. Fully functional offline capabilities allow information to remain available during unconnected sessions commonly encountered on construction sites.
ProjectSight joins other solutions in Trimble's portfolio for managing construction project logistics, budgets, estimates, schedules, coordination and change in both 2D and 3D datasets. ProjectSight leverages the new Trimble Connect collaboration environment for design, engineering and construction firms. Trimble Connect enables teams to access and manage any data via a cloud platform and specifically allows ProjectSight users to access and share project management data with Trimble Connect users across the design-build-operate lifecycle.
"Effective project management is critical to the profitability of any construction project," said Mark Sawyer, general manager of the General Contractor / Construction Manager Division of Trimble Buildings. "With Trimble ProjectSight, we now offer a solution that addresses the core functions of project management in a very easy-to-learn, easy-to-use and easy-to-deploy system. ProjectSight ensures workers have access to accurate, up-to-date information and it puts that information in the hands of highly distributed teams at very low cost."
Availability
Trimble is offering ProjectSight on a Software-as-a-Service (SaaS) subscription basis. Project information authors pay a low monthly subscription and can invite an unlimited number of project collaborators to view and annotate their files and forms at no cost.
Trimble ProjectSight is available now for a 30 Day free trial. Additional information can be found at: http://projectsight.trimble.com. Users may also download the free ProjectSight iPad app from the iTunes App Store.
Trimble will host a webinar at noon EST on Tuesday Jan. 13, including a demonstration of key features. Registration details are available at: https://www1.gotomeeting.com/register/320764233.
About Trimble Buildings
Trimble Buildings, a part of Trimble's Engineering and Construction segment, is a world leader in solutions that optimize the complete Design-Build-Operate (DBO) lifecycle of buildings. Trimble's product and professional service offerings—spanning top brands such as SketchUp, Tekla, Gehry Technologies, Vico Office, WinEst, Accubid, Manhattan Software, and more—improve productivity, visibility and data interoperability, from simulation to renovation. Used in over 150 countries around the world and supported by a global dealer and distribution partner network, Trimble technology is a mainstay of the building industry.
Information on Trimble Buildings' DBO portfolio is available at: http://buildings.trimble.com.
About Trimble
Trimble applies technology to make field and mobile workers in businesses and government significantly more productive. Solutions are focused on applications requiring positioning or location—including surveying, construction, agriculture, fleet and asset management, public safety and mapping. In addition to utilizing positioning technologies such as GPS, lasers and optics, Trimble solutions may include software content specific to the needs of the user. Wireless technologies are utilized to deliver the solution to the user in the field and to ensure communication between the field and the office. Founded in 1978, Trimble is headquartered in Sunnyvale, Calif.
Featured Product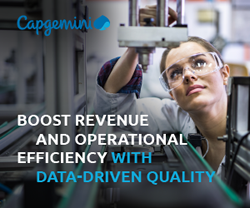 A reactive manufacturing cycle of building, inspecting, and correcting is no longer sufficient to meet rising customer wants and demands. To break this ineffective cycle, organizations must have a robust data-driven solution that combines a proactive focus on quality with integrated analytics and automation capabilities to turn quality control from a liability into an asset.