Celebrating years of the world's best Reinforcement and Anchoring Systems
CINTEC North America, a world leader in the field of structural masonry retrofit strengthening, repair, and preservation, announces its 25th anniversary. Since it began, CINTEC has grown to be a global company, providing systems and services through locations in the UK, Canada, America, Australia, and India.
As a representation of their accomplishments, CINTEC received the 2016 Construction and Engineering Award for Innovation in Engineering, Research and Development. "CINTEC is proud to receive this award and will do everything in our power to ensure our production and service remains worthy of this high standard," said Robert Lloyd-Rees, C.O.O. of CINTEC North America. "We are excited to begin our 25th year supplying quality anchoring and strengthening systems."
Starting when Robert Lloyd-Rees visited America in 1990, CINTEC has made it a point to expand their dedicated service to North America. In 1992, Robert was appointed the C.O.O. of CINTEC and has been running thriving corporate offices ever since.
CINTECs independent but collaborative engineering, design and consulting companies form a unique global presence together with partnerships and agents throughout the world. Its product range includes divisions such as Archtec and Blastec that offer clients turn-key engineering service packages, including design, engineering, and installation contracting.
For more information on CINTEC, visit: http://cintec.com/.
###
About CINTEC
CINTEC International is a world leader in the field of structural masonry retrofit strengthening, repair and preservation. CINTEC America of Baltimore, MD, has associated offices in Newport, Wales, UK; Newcastle, Australia; Ottawa, Canada and in India.
The principal activity of the company is the design and manufacture of the CINTEC Reinforcing Anchor System, a micro cement anchoring and reinforcing technique. CINTEC offers complete structural analysis and design services, turn-key solutions, as well as masonry repair and reinforcement anchors used for blast protection, seismic reinforcement, historic preservation and overall building strengthening.
CINTEC was awarded the 2002 Queens Award for Enterprise in Innovation and received two U.K. Historic Bridge Awards and an Engineering Excellence Award from The Institution of Engineers, Australia in 2001.
For more information, call 1-800-363-6066; fax: 1 800.461.1862; e-mail: solutions@cintec.com or visit www.cintec.com.
Featured Product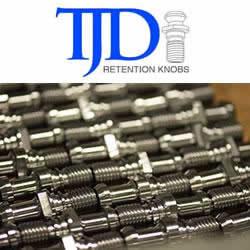 Our retention knobs are manufactured above international standards or to machine builder specifications. Retention knobs are manufactured utilizing AMS-6274/AISI-8620 alloy steel drawn in the United States. Threads are single-pointed on our lathes while manufacturing all other retention knob features to ensure high concentricity. Our process ensures that our threads are balanced (lead in/lead out at 180 degrees.) Each retention knob is carburized (hardened) to 58-62HRC, and case depth is .020-.030. Core hardness 40HRC. Each retention knob is coated utilizing a hot black oxide coating to military specifications. Our retention knobs are 100% covered in black oxide to prevent rust. All retention knob surfaces (not just mating surfaces) have a precision finish of 32 RMA micro or better: ISO grade 6N. Each retention knob is magnetic particle tested and tested at 2.5 times the pulling force of the drawbar. Certifications are maintained for each step in the manufacturing process for traceability.