Steakholder Foods has completed the upgrade of its industrial-scale 3D bio-printer, allowing for high throughput printing of a variety of species with the potential to print tons of meat per month.
Steakholder Foods Ltd. (NASDAQ: STKH), an international deep-tech food company at the forefront of the cultivated meat industry, today announced that it has completed the upgrade of its industrial-scale 3D bio-printer. The integration of electronic cards and printheads with a fully-digital ink delivery system now enables high-throughput printing for a variety of species through hundreds of printhead nozzles, with the potential to print tons of meat per month.

High-throughput 3D printing can be used to create complex meat structures at a commercial scale. The complete upgrade includes hundreds of nozzles that work simultaneously on a carousel to allow the high-throughput volume, with a modular structure that is expected to enable the addition of printheads per specifications of Steakholder Foods' clients. The printheads are controlled and managed through a DropJet printed circuit board (PCB). In the final part of the upgrade, printheads were connected to Steakholder Foods' proprietary, in-house software, that models and reads design files and creates the slicing that manages printing through the printheads. This software enables the printing of complex 3D structures with extreme precision. The system's adaptability is expected to allow the printing of almost any species, as the printer systems keep cells alive and undamaged throughout the printing process.
Future development is expected to include further automation capabilities, cost optimization, and validations for commercialization. Additional development may also include modification and customization for partner needs.
Itamar Atzmony, VP of Engineering at Steakholder Foods: "Steakholder Foods' 3D printer cutting-edge technology is fully developed in-house. From the mechanical design to the software and electronics, this upgrade brings us one step closer to mass production, creating sophisticated meat and fish structures for the cultivated meat industry."
About Steakholder Foods
Steakholder Foods Ltd., formerly MeaTech 3D Ltd., is an international deep-tech food company at the forefront of the cultured meat revolution. The company-initiated activities in 2019 and is listed on the Nasdaq Capital Market under the ticker "STKH" (formerly MITC), with headquarters in Rehovot, Israel.
The company is developing a slaughter-free solution for producing cellular agriculture meat products, such as beef and seafood, by offering manufacturers the ability to produce a cultivated meat product that aims to closely mimic the taste, texture, and appearance of traditional meat— as an alternative to industrialized farming and fishing. With its membership in the UN Global Compact, Steakholder Foods is committed to act in support of issues embodied in the United Nations Sustainable Development Goals (SDGs) which include strengthening food security, decreasing carbon footprint, and conserving water and land resources.
For more information, please visit: https://steakholderfoods.com
Featured Product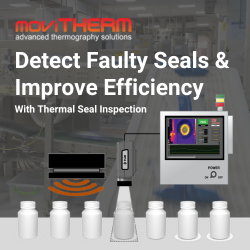 MoviTHERM's Thermal Seal Inspection (TSI) solution provides precise and reliable detection of defects in a variety of packaging types, including pouches, bags, blister packs, bottle caps, and more. By detecting defects in your packages, the TSI solution helps increase efficiency in your production line and ensures top-quality packaging is delivered to your customers every time. With state-of-the-art technology and an experienced team, MoviTHERM is dedicated to delivering accurate inspection solutions and peace of mind to its clients. Contact MoviTHERM today to learn more about their thermal seal inspection solution.