The Calibur3 metal AM system from Wayland introduces a paradigm shift in eBeam powder bed fusion (PBF) technology.
(26th May 2023, Huddersfield, U.K.) — Wayland Additive, the renowned developer of the Calibur3 metal additive manufacturing (AM) system, is thrilled to announce its participation at this year's TCT 3Sixty event on booth J39 This event, to be held on June 7-8 at the NEC in Birmingham, provides an exciting platform for Wayland Additive to engage with UK customers, discuss their ground-breaking metal AM technology, and showcase the company's versatility across various industrial production applications.

The Calibur3 metal AM system from Wayland introduces a paradigm shift in eBeam powder bed fusion (PBF) technology. It represents a significant advancement compared with existing PBF systems, overcoming the inherent compromises associated with laser or eBeam fusion processes for metal materials. Design engineers can now revisit challenging or previously deemed impossible applications, thanks to the exceptional attributes of the NeuBeam® process. This breakthrough innovation paves the way for new possibilities and precise control in metal AM.
Peter Hansford, Chief Revenue Officer at Wayland says, "Calibur3 introduces metal AM for production, and our team is excited about the opportunities it brings to the industry. At TCT 3Sixty, our team members will be available to discuss new applications and showcase the benefits of NeuBeam®. We invite attendees to learn more about our hot part process, which eliminates residual thermal stresses, simplifies powder removal, and reduces post-processing requirements. Calibur3 enables improved productivity with faster warm-up and shorter cool-down times. Come and see us at TCT 3Sixty to explore the immense potential that Calibur3 holds for your manufacturing endeavours."
The NeuBeam® process effectively neutralizes charge accumulation generated by the electron beam, providing greater flexibility compared to laser PBF and surpassing the stability issues of eBeam PBF. This unique attribute enables tailored metallurgical requirements to match specific application needs, expanding the range of metal materials that can be utilized in the process. With NeuBeam®, Wayland Additive not only enhances process development but also eliminates residual stresses, resulting in stress-free parts, reduced energy consumption, and improved powder flow post-build.
Hansford continues, "Wayland's Calibur3 produces fully dense parts in refractory metals such as tungsten and also highly reflective alloys, free from residual stresses and with reduced energy consumption. The technology opens up a raft of applications across a range of industry sectors hitherto unable to benefit from the use of AM as a production process.
Since commercialising our technology two years ago, Wayland is now shipping machines all over the world across a variety of industry sectors, all hungry to exploit the potential our NeuBeam® AM process offers."
Visit Wayland Additive on booth J39 at TCT3sixty to engage with its knowledgeable team, gain insights into the Calibur3 metal AM system, and explore the possibilities NeuBeam® unlocks for your specific applications.
www.waylandadditive.com
About Wayland Additive
NeuBeam® technology has been developed in-house from the ground up by a team of physicists that have worked for many decades with electron beam technology and industrial systems in the semi-conductor industry. The science, combined with extensive expertise and experience has allowed Wayland Additive to develop a very capable and reliable system rather than imitating existing systems or adapting off-the-shelf components and re-purposing them.
Featured Product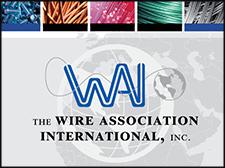 The Wire Association International (WAI), Inc., founded in 1930, is a worldwide technical society for wire and cable industry professionals. Based in Madison, Connecticut, USA, WAI collects and shares technical, manufacturing, and general business information to the ferrous, nonferrous, electrical, fiber optic, and fastener segments of the wire and cable industry. WAI hosts trade expositions, technical conferences, and educational programs.