The rebranding will provide exciting new opportunities to improve efficiencies, generate sustainable value, and increase scalability for stakeholders worldwide.
FORT WORTH, TEXAS, February 6, 2023 - Allied Electronics & Automation, the main trading brand of RS Group plc in the Americas (LSE: RS1), a global omni-channel provider of industrial product and service solutions, has rebranded as RS. This rebranding will elicit new opportunities to help industrial customers overcome challenges and further enhance the company's user-friendly, technology-enabled customer experience in the region.

Rebranding Allied as RS is RS Group's latest effort to consolidate the product offer, service portfolio, and proven experience of its trusted global brands under a single, unified RS brand identity. This will provide exciting new opportunities to improve efficiencies, generate sustainable value, and increase scalability for stakeholders worldwide.
Customers in the Americas, extending from small single-site businesses to global multi-site companies, will continue to enjoy access to a broad and deep range of more than 750,000 stocked industrial and electronic products and a wide portfolio of service solutions for design, procurement, inventory, and maintenance.
"Allied earned a reputation as a leading distributor of industrial products and services in North America and was recognized for being reliable and committed to solving our customers' problems. RS is founded on these same core values, so aligning under the banner of RS extends our ability to deliver value for our customers," said Jessie Dearien, RS Vice President of Marketing, Americas. "Being part of the global RS team will enable us to leverage our expertise and experience across the Group. Our aim is to think bigger, make the impossible possible, become the first choice for our stakeholders, and make amazing happen for a better world."
The continued unification of the RS brand will also present opportunities for the Group to increase its share of a large, fragmented market, drive continued market outperformance, and accelerate organic growth. In addition, the increased global collaboration will fuel environmental, social, and governance (ESG) initiatives aimed at creating a more sustainable and inclusive world and drive strong revenue, cash conversion, and attractive returns.
About RS in the Americas
In the Americas region, RS (formerly Allied Electronics & Automation) supplies more than 230,000 stocked industrial and electronic products from more than 650 trusted suppliers. These products cover categories extending from automation and control equipment to interconnect, passive, active, and electromechanical components and include more than 80,000 high-quality, competitively priced RS PRO products, the own brand of RS.
RS also offers a comprehensive suite of services and tools including the industry's largest collection of 360º product images, an extensive range of 3D CAD models, more than 1.1 million up-to-date datasheets, a highly experienced technical support team, and kitting, bagging, and labeling services. In addition, RS publishes a series of expert advice articles, interviews, and podcasts crafted to place critical industry knowledge and expertise at its customers' fingertips and help them identify product and technology solutions as unique as their businesses.
RS Integrated Supply also operates in the Americas, delivering integrated global supply solutions that cover outsourced procurement, storeroom management, and transactional processing services for the maintenance, repair, and operations (MRO) and original equipment manufacturing (OEM) industries.
About RS Group
RS Group plc is a leading global omni-channel industrial product and service solutions provider to customers who are involved in designing, building, and maintaining industrial equipment and operations, safely and sustainably. RS Group plc stocks more than 750,000 industrial and electronic products, sourced from over 2,500 leading suppliers, and provides a wide range of product and service solutions to over 1.2 million industrial customers. With operations in 32 countries, we trade through multiple channels and ship over 60,000 parcels daily.
RS supports customers across the product life cycle, whether via innovation and technical support at the design phase, improving time to market and productivity at the build phase, or reducing purchasing costs and optimizing inventory in the maintenance phase. RS offer customers tailored product and service propositions that are essential for the successful operation of their businesses and help them save time and money.
RS Group plc is listed on the London Stock Exchange with stock ticker RS1 and in the fiscal year that ended March 31, 2022, reported revenue of $3.3 billion.
For more information about RS in the Americas region, please visit https://us.rs-online.com or connect with us via social media on Facebook, Twitter, LinkedIn, and YouTube. For more information about RS Group, please visit https://www.rsgroup.com/ or connect with us on LinkedIn or Twitter. For more information about RS DesignSpark, please visit www.rs-online.com/designspark or connect with us on Twitter.
Learn why customers make RS their first choice:
https://youtu.be/h3JmQsCxkpk
Featured Product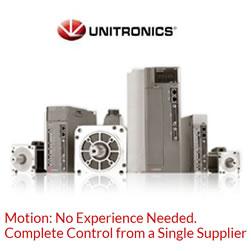 Unitronics' line of AC Servo Drives & Motors changes the traditional approach to motion control. They are simple to set up and painless to program. Unitronics Servos simplify implementation of motion applications while minimizing complexity and reducing development time. Some of the easy-to-use features in this new line include implementing motion control easily with ready-made motion code, embedded diagnostic tools, and automatic communication setup.