Recognizes the important contribution Wohlhaupter makes through resource-efficient production and responsible management
The city and district of Esslingen have awarded Wohlhaupter GmbH the ECOlogical PROject for Integrated Environmental Technology seal known in short as ECOPROFIT. In doing so, they recognize the important contribution to sustainability the company makes through its resource-efficient production and responsible management.

According to ECOPROFIT's website the program is an environmental management approach that provides technical and organizational guidance to communities and their companies. Participants attend workshops, receive individualized mentorship and seek certification to reduce both their environmental impact and operational costs sustainably. Members optimize their procedures and processes to balance economic growth, social well-being and environmental stewardship for future generations.
Wohlhaupter's participation in Esslingen's chapter of the environmental management program ECOPROFIT (in German, ÖKOPROFIT) is one more step towards this sustainability. The project's aim is to help local industry partners, traditionally responsible for about 50 percent of the region's CO2 emissions, succeed in making an effective joint contribution to climate protection. Since the area's initiative began in 2000, more than 90 companies have participated in sustainability projects. 
Responsibility for people and the environment is firmly anchored in the core of Wohlhaupter's corporate brand. This is reflected in the forward-looking corporate management, the appreciative treatment of employees and the sustainability measures implemented. As a partner of the Verband Deutscher Maschinen und Anlagenbau (VDMA) sustainability initiative Blue Competence, the manufacturer of precision cutting tools has been committed to the introduction and implementation of technical sustainability solutions, resource-efficient production and responsible corporate governance. In fact, Wohlhaupter has been drawing its energy from the earth via geothermal energy for more than ten years. A field of geothermal probes with 44 boreholes, each 95 meters deep, in combination with three electric heat pumps, provides a heating capacity of 300 kilowatts in winter. In summer, the system cools the production buildings and thus ensures production of high precision products in a consistent environment. In 2020, Wohlhaupter converted from metal halide lamps and fluorescent tubes to energy-efficient LED lighting in the 7,500 square meter production and administration buildings - saving around 70 tons of CO2 per year. A low-pass filter was also recently installed at the company's headquarters in Frickenhausen, further reducing electricity consumption.
Frank-M. Wohlhaupter, managing director of the company, is pleased with the successful cooperation between the city, the district and the business community. Wohlhaupter states "We are making our production more sustainable bit by bit and always thinking about tomorrow. With the eco-label (ECOPROFIT), we are recognized for our continuous commitment and can network with like-minded companies in the region."
Featured Product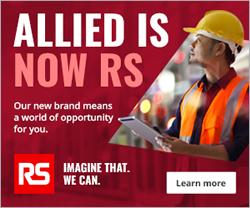 Imagine a global, end-to-end partner for industry - dedicated to solving your problems so you can drive your business forward. We can. On February 6, 2023, we officially changed our name to RS. It's just one way we're evolving to make our partnership and doing business with us even more rewarding. As RS, you have access to more support, more expertise, and more possibilities for your big and small projects - from concept and design to build and maintenance. Going forward, you'll see the RS logo on our website, social media, communications, and packaging. And rest assured, our current systems and procedures will remain intact to seamlessly process your order.