Liquid cooling unit features environmentally-friendly refrigerant and inverter technology
Lancaster, NY - Pfannenberg, Inc., a leading global manufacturer of thermal management technologies, highlights that its EB 2.0 ECO Chiller utilizes compressor inverter technology to reduce power consumption up to 65% and lower operating costs.

Inverter technology in the compressor works to ensure a direct response to cooling demand, thus minimizing energy waste for more environmentally-friendly and lower cost operation. This responsiveness to cooling demand also increases the range of cooling capacity significantly - by 50-100% - and extends the product's lifespan. Designed for indoor and outdoor operation, the chiller design is perfectly suited for heat dissipation in combination with passive indoor cooling systems (PWS/PWW).
The EB 2.0 ECO Chiller features a hot gas bypass refrigerant circuit, internal hydraulic bypass circuit, and non-ferrous hydraulic circuit. The electrical tank level switch and coolant flow switch simplify operation, along with the programmable smart controller and wired remote control. The EB 2.0 ECO Chiller uses R410a environmentally friendly refrigerant, and features a micro-channel condenser for greater resistance to dirt and debris buildup in outdoor environments, and thus more efficient operation over time.
Pfannenberg's EB 2.0 ECO Chiller product design is based on customized units that have been proven to deliver high performance, efficient operation, and reduced costs in industrial applications. The chiller can also be utilized in small battery storage applications for uninterrupted power storage/backup for personal computers.
For more information, visit https://www.pfannenbergusa.com/liquid-cooling/eb-series-eco-chillers/.
###
About Pfannenberg
Established in 1954 by Otto Pfannenberg in Hamburg Germany, Pfannenberg, Inc. is recognized as a leading global manufacturer of thermal management technologies within the Electro-technology Industry. In 1958 we invented the Filterfan®, which continues to be recognized worldwide as a leading product to help manage the temperature in electrical enclosures. Our business philosophy: Protecting Man, Machine and the Environment.
Featured Product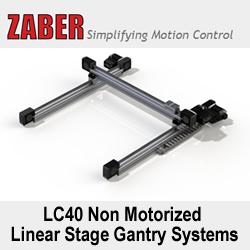 A Zaber gantry kit comes with everything you need to build a customized XY gantry system or XYZ gantry system. These gantry systems feature coordinated multi-axis motion, plug-and-play operation, easy integration with end-effector options, and built-in IO and E-Stop capabilities. An intuitive ASCII interface allows the user to easily communicate with the gantry systems using our free software, either Zaber Motion Library with APIs for several popular languages or Zaber Console. Third party terminal programs that can communicate over a serial port can also be used.