A Finnish start-up, SelectAM has launched first ever free-tier to help accelerate the adoption of Additive Manufacturing (AM), also referred to as industrial 3D printing. Finding suitable and economically viable use cases has been a real roadblock and de-motivator for companies and engineers looking into the world of AM.
"Based on the data from our research and customer projects, a small percentage of the parts that run through our process appears as a viable business case as they are today. This means we're helping our users to focus on the right parts and applications. In addition, since we also expand our assessment to supply chain critical parts and future business cases after redesigning the part or assembly for AM, a larger business case percentage is achievable.

Our algorithm is tackling knowledge gaps and blocks, and we do it completely technology agnostic and securely in our web app (data saved only locally in your browser). We aim to help engineers, OEMs, design agencies, and R&D departments alike to validate and estimate which parts would make good candidates for AM and assist them with the best selection of the applied AM technology.
We have heavily focused on embedding features like nesting, slicing, automated material mapping, and AM-process selection - which makes the business case calculations accurate and realistic. Also, if you have already 3D printers in-house, those can be embedded into the digital workflow to fine-tune outcomes.
What's next for SelectAM? We've launched the free tier of our SW for people to use and find long-term wins quickly, and we look forward to hearing feedback on the features we've built to enhance the service."
Featured Product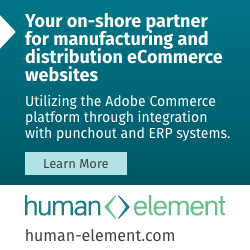 With Human Element, you will build a strategic partnership with experienced on-shore strategists and developers who understand the pain points unique to manufacturers and distributors. Using Agile methodologies and proven eCommerce website development strategies, our team positions clients for success.