Rollem uses both METHOD and METHOD X to successfully create fully custom, one-off parts for the printing of playing, trading and gaming cards for the likes of Monopoly®, Cluedo® & Pokemon®.
MakerBot, a Stratasys company initially set out in 2009 to become one of the first companies offering 3D printers that were affordable and available for all. The global 3D printer market has since only grown and was valued at US$12.6 billion in 2020. Rollem have used MakerBot 3D printers for a number of years but with the industry ever developing they were looking to upgrade.

Rollem are a world-leading print finishing specialist, creating innovative, bespoke solutions for printers around the world. They pride themselves on being able to finish any printer challenges a customer may have. Exports account for 85% of all Rollem's production, with half of that going to the ever-demanding US market. Their industry-leading systems combine productivity with incredible levels of accuracy.
One of Rollem's print finishing applications is playing, trading and gaming cards, with their print finishing machinery eliminating the need for separate guillotining, collating, perforating and scoring operation. Ninety per cent of global casino suppliers finish their playing cards on Rollem print finishing machines. Similarly in the trading card industry companies such as Pokemon® stipulate the use of Rollem's print finishing equipment in their licensing specification.
With each order coming from a different company with varying specifications, Rollem's cards must be fully customisable to fit each client's needs. This means that Rollem must be able to alter their machinery between each order. They were looking to produce custom playing card covers, clamps and parts. One option was to go with injection moulding. However, this would mean Rollem would only be able to produce large batches at a time. Additive layer manufacturing or 3D printing would allow for smaller orders and flexible part designs.
Once Rollem's Managing Director Stuart Murphy had decided that a 3D printer would be able to solve these issues, it was time for the much longer process of deciding which one. To answer that question Stuart would need to seek technical advice and support to ensure that he found the right printer for his requirements.
Nicola Stokes, director at Daemon 3D, and Stuart have known each other for 20 years, and they had caught up at a trade show where Stuart explained his recent interest in acquiring a new 3D printer.
Daemon 3D have been a web shop retailer of 3D printing equipment since 2014, with experience in 2D printing equipment having two separate 2D printing equipment web stores. They serve on a business-to-business basis, selling to a range of professionals including engineers, universities and museums and galleries.
With no hard selling from on-road salesmen or engineers Daemon 3D rely on customers coming to their website because they already have an idea of what they want or at least needing a solution to their problem. Comprising a small expert team, Daemon 3D provide technical sales support and advice, their product range is aimed at delivering high levels of performance straight out of the box.
The Daemon 3D team ensure that they never attempt to push a hard sale, but rather focus on fulfilling their clients' 3D printing needs. Before suggesting what the customer should buy, Daemon 3D work hard to find out what their customers need the printing equipment to achieve. This information can then allow them to find the most appropriate 3D printing equipment.
No two 3D printers offer exactly the same capabilities, so it can be difficult for customers to know exactly what they need/want. On Daemon 3D's web store, they only stock products that offer their own unique function. No two products will offer the same capabilities as Daemon 3D have already researched and chosen the best on the market and can therefore suggest one specific model that meets their customers' needs rather than providing a confusing shortlist of options.
Many resellers will prioritise selling the product that they want to sell rather than what's best for the customer. Daemon 3D however will inform the customer what their best option is even if they don't stock that specific product.
Nicola Stokes, Director at Daemon 3D said "Whether we have known a client for 20 years or 20 minutes, we work hard to ensure we understand their technical needs. With a variety of technical backgrounds, our team are able to provide leading support and advice for first time 3D printer buyers and regular customers who know their way around a machine."
"At Daemon 3D we are not a sales outfit who focus on hard sales; we are a selling outfit who let the products we sell use their capability pull to attract customers. We offer a small range of highly capable products each with unique selling points. When we have first contact with the customers, 60% of them already know what they want with the other 40% needing advice. For both types we steer them in the direction of the best product for their intended application."
When Nicola became aware of Stuart's interest in purchasing next generation 3D printers her first aim was to find out what the purpose of the new equipment would be. The new 3D printers would be used to build mechanical custom systems for playing, trading and gaming cards. Rollem were already using 3D printers for this however as time moved on Stuart wanted to have the option to use a wider range of engineering materials and to have the latest technology.
Rollem wanted 3D printers which offered a larger variety of better materials than their existing 3D printers supported and to work more reliably. This ticked off Daemon 3D's first hurdle of qualifying the desired application of the customer before settling on the right printer.
After 12 months of back-and-forth discussion between the Rollem and Daemon 3D teams, Stuart decided to go with Nicola's advice and guidance that the MakerBot Method and MakerBot Method X 3D printers would be the best fit. Daemon 3D supplied Rollem with one of each model as the MakerBot printers provide engineering functional materials and a print tolerance control.
Daemon 3D initially began stocking MakerBot printers due to their reliability of performing straight out of the box in accordance with their data sheets. Rollem wanted the use of engineering materials with Makerbots' intentions for future growth in the materials offered being a strong benefit, Daemon 3D provided Rollem with a range of samples and demos to give more assurance during the decision-making process.
MakerBot were purchased by Stratasys in 2013 in a US$604 million deal, Stratasys already had over 20+ years' experience and wanted to take MakerBot 3D printers from being for consumer use in education to business-to-business industrial applications within engineering. This takeover led to a Makerbot 3D printer being used on the International Space Station.
Often when 3D printing a product there is shrinkage which has to be tolerated or designed in, the Method printers purchased by Rollem offer much greater levels of engineering tolerance accuracy than other competing 3D printers. Rollem purchased both the Method and Method X printers: the Method printer being intended for low temperature materials whereas the Method X are designed for high temperature materials.
Stuart Murphy, UK Managing Director of Rollem said "Daemon 3D understand what we need as a company, and our very specific applications and technical challenges. I had full confidence that the Makerbot Method Printers would achieve what we needed as we had completed extensive scoping of the issue with Nicola and her team."
"Also the ease of access from Daemon 3D's website meant that the information we needed was always there helping us to make our decision and when that wasn't enough Nicola was always on hand to answer our questions, a testament to both her technical know-how and customer support."
"Not only was all the information that we needed on their website but their easy to navigate web-shop allows us to make any ongoing purchases of materials, parts and ever expanding MakerBot tools & materials that we need, with ease."
"The MakerBot Method and Method X printers have offered us the flexibility we were looking for to produce custom parts each time, reducing our turn-around time by eliminating the need to outsource some work and also reduce our overall costs."
"Since using MakerBot I can't remember the last time that we threw away a printed item because of an issue we had with the printer due to the printers yield rate easily being between 95 and 96%. The Method and Method X printers deliver consistent products time and time again with the only ever faults coming from our design rather than the printing process."
"The Makerbot Method and Method X printers require less involvement on our end, allowing us to get on with other tasks. Whether we are printing an item overnight or over the weekend we always have the confidence in the MakerBot printers to walk away and leave them unattended to complete their job accurately."
For Rollem to entrust the MakerBot printers, valued between £5,000-£6,000 each, demonstrates the levels of quality and reliability that is tied to the MakerBot name. This quality and reliability that was demonstrated to Rollem by Daemon 3D through their technical expertise and demonstrations of samples.
The relationship that begun between Rollem and Daemon 3D over twenty years ago has only been cemented with the recent purchase of MakerBot printers directly from Daemon 3D. With the 3D printing market constantly evolving and changing Daemon 3D will provide advice and be able to source the up to date, top of the line 3D printing technology.
About MakerBot
MakerBot, a Stratasys company, is a global leader in the 3D printing industry. The company helps create the innovators of today and the businesses and learning institutions of the future. Founded in 2009 in Brooklyn, NY, MakerBot strives to redefine the standards for 3D printing for reliability, accessibility, precision, and ease-of-use. Through this dedication, MakerBot has one of the largest install bases in the industry and also runs Thingiverse, the largest 3D printing community in the world.
The Method and Method X printers have both recently been accredited with GREENGUARD Certification from UL. The GREENGUARD Certification is a globally recognised product emissions certification that assesses products against third-party chemical emissions standards. The accreditation comes following MakerBot's recent launch of their RapidRinse fast-dissolving water-soluble support material which removes the need for caustic chemicals to be used during post-processing.
MakerBot, MakerBot METHOD X and METHOD X are trademarks or registered marks of MakerBot Industries, LLC. STRATASYS and SR-30 are trademarks of Stratasys, Inc. All other trademarks are the property of their respective owners.
https://www.daemon3dprint.com/
Featured Product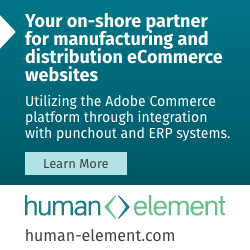 With Human Element, you will build a strategic partnership with experienced on-shore strategists and developers who understand the pain points unique to manufacturers and distributors. Using Agile methodologies and proven eCommerce website development strategies, our team positions clients for success.