G-Series universal machining centers technology will be on display at booth #1528
Bluffton, OH - GROB Systems, a global leader in the development of manufacturing systems and machine tools, will feature its G-Series universal machining centers at booth #1528 at Southtec 2021, to be held October 26-28 in Greenville, SC, at the Greenville Convention Center.

The proven horizontal machining center platform makes the G-Series 5-axis machining centers like no other. GROB machines are precise, low maintenance, and ideal for shops requiring ultimate precision and accuracy.
A unique retractable spindle and swivel-rotary table provide unmatched accessibility to the workpiece, even with long tools. The G350 has improved dynamics, faster tool changes, and expanded tool magazine capacity. By redesigning the tool magazine, the overall width has been reduced from 2,450 mm (96.5 in) to 2,000 mm (79 in.) for a more compact footprint. The maximum part size is 720 mm (28.3 in.) in cylinder x 565 mm (22.2 in.) in height.
GROB also offers several mill/turn 5-axis machines. The mid-size G550T can mill and/or turn parts up to 900 mm (35.4 in.) cylinder. The high-speed table rotates at 800 rpm with a balancing function available. The maximum part height is 785 mm (30.9 in).
All G-Series models feature the GROB-designed and built table with 225 degrees of rotation in the A axis, and continuous 360 degrees in the B axis. It is possible to completely invert the table for upside-down machining while chips simply free-fall away from the part.
For more information on GROB Systems please visit: https://www.grobgroup.com/en/.
###
About GROB Systems
For over 90 years, GROB has been known worldwide for the development and manufacturing of machines and production lines for automotive OEMs. GROB has since expanded its portfolio to include universal 5-axis machining centers. The unique retractable spindle provides unmatched accessibility to the work piece, and even upside-down machining, in a collision-free environment during tool change. They are easy to install and maintain, and provide outstanding performance and precision from lot size 1.
GROB is a family-owned company located near Munich, Germany and has full manufacturing capabilities in Germany, Brazil, China, Italy and the United States. More than 600 employees at the 400,000 square foot facility in western Ohio support GROB customers across North America.
Featured Product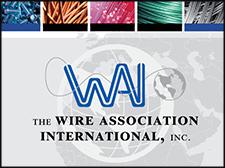 The Wire Association International (WAI), Inc., founded in 1930, is a worldwide technical society for wire and cable industry professionals. Based in Madison, Connecticut, USA, WAI collects and shares technical, manufacturing, and general business information to the ferrous, nonferrous, electrical, fiber optic, and fastener segments of the wire and cable industry. WAI hosts trade expositions, technical conferences, and educational programs.