-The two-day medical device and advanced manufacturing event releases a comprehensive education agenda comprising free and paid speaker sessions at the November 2021 show. -Three keynoters – José Morey, M.D., consultant for NASA, IBM, Hyperloop, and Liberty BioSecurity Health; Steve Grove, Commissioner, Minnesota Department of Employment and Economic Development; and Loren McDonald, CEO of EVAdoption – offer varied insights on engineering and manufacturing growth opportunities.
Advanced Manufacturing Minneapolis, the Midwest's leading end-to-end design and manufacturing event, organized annually by Informa Markets - Engineering, today revealed a high-caliber lineup of speakers set to take the stage in-person November 3 and 4, at the Minneapolis Convention Center. Comprised of five co-located events - Medical Design & Manufacturing (MD&M), Design & Manufacturing (D&M), Automation Technology Expo (ATX), Plastec, and MinnPack - Advanced Manufacturing Minneapolis offers attendees access to three expo floor theaters and the expertly curated four-track medical conference focused on regulations, research and development; medical device design and manufacturing; medtech security, UI/UX, and digital transformations; and innovation in medical design and engineering.

"This year's education lineup is remarkable, with visionaries from all corners of the medtech and advanced manufacturing fields that play an influential role in progressing the global economy forward sharing their knowledge and returning to face-to-face networking," said Suzanne Deffree, Group Event Director, Informa Markets. "With Advanced Manufacturing Minneapolis, we've made a significant effort to secure not only the best and most innovative engineers from Minnesota to speak but have presenters coming from all corners of the U.S. to share insights you won't hear elsewhere. These efforts are led by three impactful keynotes crossing medtech and AI, electric vehicles, and innovation in the American Midwest."
Full keynote details are as follows:
Future of Medtech: From AI to Xenobots & Everything in Between
José Morey, M.D., Consultant for NASA, IBM, Hyperloop Transportation, and Liberty BioSecurity Health
Since its creation in 1816 by the French Physician René Laënnec, the stethoscope has become the quintessential icon for a physician. We will be exploring the transition from the age of the stethoscope to the age of robotics and artificial intelligence — and envision a world in which the next iconic tool for a physician is not a physical augmentation to hear breath sounds and cardiac sounds but an augmentation to understanding a patient's digital twin to be able to predict disease and intervene even when separated by vast distances.
Innovation in Minnesota: Where We Came From and Where We're Going
Steve Grove, Commissioner, Minnesota Department of Employment and Economic Development (DEED)
Minnesota is home to one of the highest per capita of Fortune 500 companies and home to many more key engineering and manufacturing businesses. This is primarily due to a few key things: our focus on innovation and economic expansion, our diverse workforce, and a growing ecosystem to support innovation. In this keynote presentation, Commissioner Steve Grove will discuss opportunities and advancements in the North Star State and take questions from the audience.
Are You Ready for the EV Revolution?
Loren McDonald, CEO, EVAdoption: Presented by SMTA
The transition to electric vehicles (EVs) and away from gas-powered vehicles is underway worldwide and in the US. However, many key questions remain, including how quickly the transition will occur (especially in America) and how disruptive the transition to EVs will be to various segments of the auto industry — from suppliers to dealers and OEMs. In particular, the shift to EVs is turning the automotive supply chain on its head as lower barriers of entry are bringing many new players — both big and small — to the table. In his keynote presentation, electric vehicle analyst and consultant Loren McDonald of EVAdoption will enlighten attendees on how and when the EV transition is likely to play out.
In addition to insights shared by the event's keynote speakers, the event's educational sessions offer access to in-depth panels and forward-looking presentations that address the engineering and manufacturing's most pressing challenges and opportunities.
Select free and paid conference sessions include:
Maintaining a Validated State for Connected Medical Devices, SaMD & DTx in an Era of Chaotic Innovation
Pat Baird, Regulatory Head of Global Software Standard, Philips; Randy Horton, VP of Solutions and Partnerships, Orthogonal
Automated Operator: The future of Med Device Assembly
Dave Neville, President, Infinity Robotics
Harmonizing Quality Systems: FDA ISO 13485
Michelle Jirak, Senior Design Assurance Engineer, Biomerics
Regulatory Playbook for Innovative Medical Devices
James Kleinedler, Fellow, Regulatory Affairs, Boston Scientific
Case Studies — How the Experience Economy Has Improved Product Design
Avishek Mishra, Regulatory Affairs Specialist, Medtronic
Panel — Making Human Factors & User Experience Work Together
Russ Branaghan, President & Chief Scientist, Research Collective
Unpacking the Science of Medical Packaging Requirements
Amy Stewart, Product Development Manager, Printpack Medical; Henk Blom, VP of Research and Technology, PAXXUS; Dhuanne Dodrill, CEO, PAXXUS
Stability Testing in Today's New Regulatory Environments
Wendy Mach, Senior Manager, Nelson Labs
Registration is open; secure a pass today.
Attendee registration
Press registration
Stay connected across MD&M, Design & Manufacturing, ATX, Plastec, and MinnPack with #DiscoverEngineerBuild
Facebook
LinkedIn
Twitter
About Informa Markets - Engineering:
Informa Markets' Engineering portfolio is the leading B2B event producer, publisher, and digital media business for the world's $3-trillion advanced, technology-based manufacturing industry. Our print and electronic products deliver trusted information to the engineering market and leverage our proprietary 1.3-million-name database to connect suppliers with buyers and purchase influencers. We produce more than 50 events and conferences in a dozen countries, connecting manufacturing professionals from around the globe. The Engineering portfolio is organized by Informa, the world's leading exhibitions organizer that brings a diverse range of specialist markets to life, unlocking opportunities and helping them thrive 365 days of the year. For more information, please visit www.informamarkets.com.
About Informa Markets
Informa Markets creates platforms for industries and specialist markets to trade, innovate and grow. Our portfolio comprises more than 550 international B2B events and brands in markets including Engineering, Healthcare & Pharmaceuticals, Infrastructure, Construction & Real Estate, Fashion & Apparel, Hospitality, Food & Beverage, and Health & Nutrition, among others. We provide customers and partners around the globe with opportunities to engage, experience and do business through face-to-face exhibitions, specialist digital content and actionable data solutions. As the world's leading exhibitions organizer, we bring a diverse range of specialist markets to life, unlocking opportunities and helping them to thrive 365 days of the year. For more information, please visit www.informamarkets.com.
Featured Product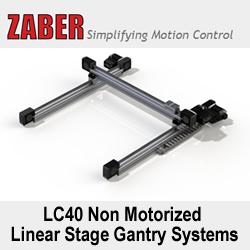 A Zaber gantry kit comes with everything you need to build a customized XY gantry system or XYZ gantry system. These gantry systems feature coordinated multi-axis motion, plug-and-play operation, easy integration with end-effector options, and built-in IO and E-Stop capabilities. An intuitive ASCII interface allows the user to easily communicate with the gantry systems using our free software, either Zaber Motion Library with APIs for several popular languages or Zaber Console. Third party terminal programs that can communicate over a serial port can also be used.