Project Seeks to Advance Domestic Ability to Produce AM Components for Aerospace and Defense High Mach Applications
YOUNGSTOWN, OHIO. America Makes announces a new Directed Project Call worth $1M in total funding from the Air Force Research Laboratory (AFRL), Materials and Manufacturing Directorate, Manufacturing and Industrial Base Technology Division to advance domestic ability to use additive manufacturing for the creation of components for aerospace and defense high Mach applications.

The Maturation of Additive Geometric Management Approaches (MAGMA) for high Mach applications seeks to improve geometries, thermal management, and producibility of AM components through design innovation using model-based approaches to account for various factors which impede product shape.
"The MAGMA Directed Project Call addresses an inherently complex and ongoing problem that has significant implications for the aerospace and defense sectors," said Brandon D. Ribic, Ph.D., America Makes Technology Director. "With this project call, our goal is to gain a better understanding of geometric tolerancing as it relates to thermal management by leveraging model-based technologies to advance designs and demonstrate measurable improvement in the producibility of AM components for high Mach applications. We highly encourage members to team with a design authority who has a deep understanding of design intent in this area."
MAGMA aligns to strategic swimlanes determined in the America Makes' AM Technology Roadmap, that when met, promote inquiry, knowledge-sharing, and technical advancements across the entire industry.
MAGMA also builds upon learnings from previous America Makes project calls, including a 2015 project focused on using AM for fabricating conformal heat exchangers for propulsion applications.
More information, details, and participant guidelines for the MAGMA can be found at americamakes.us/project-calls.
***MAGMA Directed Project Call Timeline and Details***
Launch: Tuesday, October 19, 2021
Eligibility: All participants (lead proposers) must be America Makes members
Informational Webinar: Tuesday, October 26, 2021 at 2 p.m. Eastern time. Registration is required.
Submission Deadline: Friday, November 19, 2021 before 5 p.m. Eastern time.
Anticipated Award(s) Announcement: Friday, December 10, 2021 with at least two awards are anticipated.
For more information about America Makes or how to become a member, visit americamakes.us.
About America Makes
America Makes is the nation's leading public-private partnership for additive manufacturing (AM) technology and education. America Makes members from industry, academia, government, workforce and economic development organizations, work together to accelerate the adoption of AM and the nation's global manufacturing competitiveness. Founded in 2012 as the Department of Defense's manufacturing innovation institute for AM and first of the Manufacturing USA network, America Makes is based in Youngstown, Ohio and managed by the not-for-profit National Center for Defense Manufacturing and Machining (NCDMM). Visit americamakes.us to learn more.
Featured Product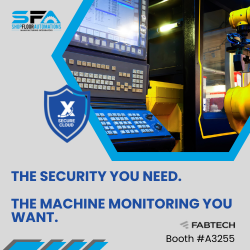 Disparate machines, each with a unique control system and communication protocol with varying ages, can create challenges for manufacturers driving continuous improvement initiatives. There is often limited visibility to make data-driven decisions that can impact every aspect of a manufacturing organization. The Scytec DataXchange machine monitoring solution resolves these issues by capturing real-time, Industrial Internet of Things (IIoT) data from a variety of equipment - from CNCs and PLCs, to robots and manual machinery - through universal machine connections. Leveraging automated data collection, DataXchange exposes and synthesizes equipment data to give your teams full transparency on the shop floor to transform your business into a smart factory.