Following the acquisition by Protolabs in January 2021, the company changes its name to strengthen its position as the global outsourcing solution for custom part manufacturing
Amsterdam, May 10th, 2021 ー Online manufacturing platform 3D Hubs today announced it has rebranded to Hubs. The new name better reflects the wide range of manufacturing services the company currently offers and aims to strengthen its position as the leader in global outsourcing for custom part manufacturing.

Founded in 2013, the company originally established itself by connecting the world's largest network of 3D printing services. Starting in 2018, at the request of its customers, the company expanded its manufacturing services to include CNC machining, sheet metal fabrication and injection molding.
The name Hubs aims to reposition the company as one offering a wide range of manufacturing services. Existing users will not be affected by the change. The only difference is web links to www.3dhubs.com will now lead to www.hubs.com. In the future, Hubs aims to expand its global network of manufacturing partners, complementing its service offering to that of Protolabs' in-house facilities.
Bram de Zwart, CEO and Co-founder at Hubs, comments on the recent developments:
"COVID-19 and the resulting supply chain disruptions have accelerated the manufacturing market's need to embrace supply chain resilience and efficiency. Hubs has been at the forefront of this movement from the beginning, by creating pricing transparency, a globally distributed manufacturing partner network and smart routing of customer orders within this network. Together with Protolabs, we are now more ready than ever to drive the industry forward and make custom part manufacturing accessible to engineers worldwide."
Featured Product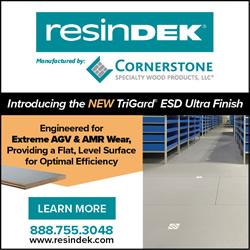 ResinDek flooring panels are designed for elevated platforms such as mezzanines, pick modules, and work platforms. They have the proven structural integrity to support dynamic and static rolling limits from 2,000 to 8,000 lbs. ResinDek flooring panels are available in a multitude of options that are customized for load capacities, required finish type, volume and type of traffic including heavy rolling pallet jack loads and robotic traffic with AGVs and AMRs.