A new shredder technology is enabling OEMs to simultaneously shred, chip, and size on-site, speeding production and reducing manufacturing input and processing costs
Traditionally, plastic product OEMs have shipped scrap and defective product to China or regional recyclers after shredding to reduce size for more manageable transport. Further grinding or granulating the plastic to a size suitable to mix with virgin plastic pellets has also enabled reuse in the manufacturing process to reduce input cost.

However, the cumbersome process of shredding, screening, and grinding the plastic to size with different equipment in separate processes has not only been inefficient but also a bottleneck to production.
Now, for the OEMs of a wide range of plastic products such as car bumpers, barrels, bottles, garbage cans, gas cans, paint cans, as well as film and wrap, industry innovation has developed a much more efficient alternative: a shredder knife technology that can cut, screen, and size in a single pass with one machine on-site.
Because the sizing of reduced plastic scrap can be specified, uniform, and even tailored to the manufacturing process, more material can be successfully reused with less labor and processing, boosting profits. Shipping costs are also reduced for scrap transported off-site to be recycled since any voids (i.e.- empty spaces) within the container are minimized.
Since the knife technology simultaneously does the work of both a typical shredder and granulator, it is also more energy efficient and takes less space on the production floor. The technology is flexible enough to be incorporated into the smallest to largest industrial shearing and grinding equipment.
Conventional Equipment Limitations
For decades, the reduction of large plastic scrap or unusable product has usually involved shearing equipment such as dual or quad shaft shredders. To further decrease size, this is typically followed by the use of grinding machinery such as granulators, stone mills, tub grinders, or chippers.
Screeners are often used at various points, which decreases processing speed. As an example, a standard dual shaft shredder typically turns shredder material into strips and requires the use of a re-screening device to reduce plastic material to a specific size, says Doug Bartelt, President of Milwaukee, WI-based BCA Industries, a developer and manufacturer of industrial shredding and recycling equipment.
According to Bartelt, conventional shredders like this are usually used in conjunction with granulators. A single shaft granulator is a simple device consisting of a knife (or multiple knives) attached to a shaft which mates with a stationary bed knife. Material is randomly chopped and continues to be cut until small enough to fit through a sizing screen in the bottom of the machine.
"Both the shredder and granulator create various sized material. Usually, this is determined by a random event in how the material is fed into the system in terms of speed, timing, etc., which results in about 40 to 50 percent incorrectly sized material. So, efficiency on either of these systems only approaches around 50%," explains Bartelt.
Efficiently Reducing Scrap to Size
Seeking a better way to size scrap material like plastic, Bartelt and his brother discovered a more efficient way to size without a screen. The insight was developed into BCA's patented Triplus knife system technology, which changes a standard shredder to a hybrid between a dual shaft rotary shear shredder and a single shaft granulator.
The approach uses the precision grabbing action of the high torque, dual shaft shredder to cut the width of the material, while the bed knife design of the shredder sizes the length. This is accomplished in one operation, which produces accurately sized material in one pass without a screen. The end-product size is based on the size and geometry of the knives.
Unlike traditional equipment, the knife system is capable of shredding, chipping, and sizing any kind or size of plastics in a single pass without utilizing a screen. A shredder utilizing this design can produce over 85% correctly sized material in one pass with less than 10% oversized material, according to Bartelt.
Such regularly sized plastic material facilitates OEMs redirecting scrap back into their own onsite manufacturing process. This move towards more of a closed loop sourcing approach can not only dramatically reduce input costs, but also eliminate most, if not all, of the expense of shipping plastic materials to be recycled offsite.
With the knife system, an OEM operator just specifies the chip size needed, and it produces chips in the specified size. The design works with wet or difficult to screen materials, and clean cuts those that normally create fines and dust. With a traditional system, fines and dust must be air vacuumed away, and are considered undesirable for many reasons.
Functionally, for OEMs looking to streamline the plastic scrap re-use or recycling process, the knife system increases efficiency and throughput that surpasses the typical granulators, hammer mills, chippers, and quad shaft shredders used in the industry.
By eliminating separate equipment and steps to shred, screen, and grind scrap to size -
and combining this into a single function - the manufacturing process is expedited.
Another factor increases production output for OEMs: the RPMs of the knives can be adjusted to the load needed for optimal production efficiency. Unlike typical shredders that tend to operate at low speed and high torque, BCA shredders using the knife design can be operated at high speed and low torque for higher production speeds. When more torque is required for anything tougher to grind, the system automatically provides the RPMs necessary; it then readjusts to the higher speed, lower torque setting for faster production within seconds.
Additionally, the knife system can reduce plastic scrap to the appropriate size with much less energy than typical shearing and grinding equipment. Power efficiency approaches 150% over any standard shredder or granulator.
As an example, with this technology, a 50-horsepower single pass shredder can produce the same amount of recyclable product per hour as a standard 100-150 horsepower conventional system. This can reduce OEM energy costs by $1,500-$5,000 per month while producing a more consistently sized product, ready for on-site reuse or cost-effective transport to a recycling center.
The technology is flexible enough to be installed in any size shredder that BCA builds, from 10 HP to 800 HP, from 15" x 12" cutting chamber to 48" x 72" cutting chamber, and is licensable to equipment OEMs looking to build their own branded devices.
In addition to plastics, the knife system design effectively shreds and sizes a wide variety of materials including rubber, paper, cardboard, wood, fabric, copper wire, aluminum, fiberglass, and even garbage, and batteries.
OEMs needing to re-use or recycle plastic scrap or defective product have long resorted to overly complex in-house shredding, screening, and grinding processes as well as costly shipping to offsite recycling centers.
With industry innovation, however, OEMs now have the ability to quickly and efficiently cut plastic scrap and sub-par product to size onsite. This has the potential to both simplify production and reduce shipping costs to boost the bottom line.
For more information: call 414-353-1002; fax 414-353-1003; email john@bca-industries.com; visit www.bca-industries.com; or write to BCA Industries, 4330 W. Green Tree Rd., Milwaukee, WI 53223.
###
By Del Williams
Del Williams is a technical writer based in Torrance, California.
Featured Product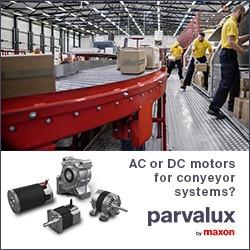 British-made Parvalux geared motors are used in a huge range of industrial applications in almost 80 countries. We manufacture conveyor belt motors, automatic shutter motors, packaging motors and much more. When you need reliable operation, you can trust Parvalux to safely power your application.