Timico has released a series of whitepapers for the manufacturing industry, examining the technological solutions required to unlock productivity and collaboration in a post-Covid world.
As a leading IT managed service provider, Timico specialises in keeping manufacturing businesses across the UK connected, productive and secure. The three whitepapers have brought together insight from some of Timico's leading experts, exploring best practices and software which will benefit the sector, as it migrates the outcomes of Covid-19.

Titled Manufacturing Whitepaper: Preparing for a Rapid Future, the first whitepaper examines the challenges the manufacturing industry is currently facing in today's climate and how businesses need to be agile enough to adapt to rapid technology development.
With many businesses adapting to a new remote working model, the Microsoft Teams Voice: Unlock Further Collaboration and Productivity whitepaper assesses the benefits that Microsoft Teams Voice brings to employees and businesses. This includes simplifying communication tools and combining telephony functionality into one service.
The third whitepaper titled An Overview and Summary of How SD-WAN Can Benefit Your Business details why businesses need to digitally transform with SD-WAN. It can benefit manufacturers of all sizes, by providing greater forecasting ability, simplified administration and tighter security.
Martin Riley, Chief Technology Officer at Timico said: "The global pandemic has seen technology, that was expected to have taken years to adopt, deployed in a matter of months, or even weeks. However, with such rapid technology movement, comes significant challenges, especially in a fast-paced industry like manufacturing.
"Our aim is to equip the industry with the right information and knowledge to help them succeed. No business can prepare for the future, but it can prepare for significant changes now, by embracing much-needed technology."
Featured Product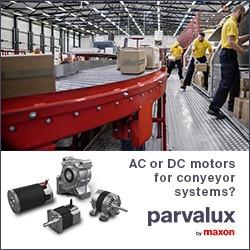 British-made Parvalux geared motors are used in a huge range of industrial applications in almost 80 countries. We manufacture conveyor belt motors, automatic shutter motors, packaging motors and much more. When you need reliable operation, you can trust Parvalux to safely power your application.