Ideal for use in applications with mid and high pressure ranges including: Hydraulics and Pneumatics; Mobile Hydraulics and Off-Highway Vehicles; Pumps and Compressors; Air Conditioning and Refrigeration Systems; Plant Engineering and Automation.
SWINDON, United Kingdom, September 30, 2020- Sensata Technologies (NYSE:ST), an industrial technology company and a leading provider of sensors, today announced the availability of the new PTE7100 and PTE7300 hermetic pressure sensors for industrial applications with mid and high pressure ranges. Building on Sensata's automotive leading Microfused Strain Gauge (MSG) with best-in-class accuracy, this new series of pressure sensors provides high burst strength and high shock and vibration performance, making it a reliable and robust solution for customers with challenging measurement requirements.

The stainless steel design features a hermetic port without using internal o-ring seals, which enables sensor compatibility with most media and use in harsh environments. A snubber option is available to dampen pressure spikes from hammer and cavitation.
The PTE7100 series hermetic analog pressure sensor has a measuring range from 0-50 bar to 0-600 bar (0-725 to 0-8700 psi). The sensor's high mechanical shock rating of up to 500g, vibration up to 30g (10…2000Hz) and a burst pressure of ≥10X make it a reliable solution with an extended product life. A wide variety of highly customizable ports, connectors and analog electrical outputs allows for easy integration with existing system electronics in many industrial applications including self-propelled scissor lifts, injection molding, CO2 HVAC systems, and other hydraulic or pneumatic applications.
With a measuring range from 0-16 bar to 0-600 bar (0-230 to 0-8700 psi), the PTE7300 series sensor provides an I2C digital output of both pressure and temperature and is available in a fully hermetic IP69K package developed for wet environments. The PTE7300 features low power consumption for battery operation, fast response time, increased sensor diagnostics, and sensor communication integrity check using cyclic redundancy check (CRC). The CRC of the communication data is additional to the integrity check of the internal chip memory and allows users to validate 100% of the sensor output, providing an extra measure of data protection for the sensor. In addition, the product is REACH/RoHS/CE compliant and is suitable for drinking water safe applications.
To review specification sheets and application notes for the PTE7100 and PTE7300 hermetic pressure sensors, please visit www2.sensata.com/pte.
About Sensata Technologies
Sensata Technologies is one of the world's leading suppliers of sensing, electrical protection, control and power management solutions with operations and business centers in 11 countries. Sensata's products improve safety, efficiency and comfort for millions of people every day in automotive, appliance, aircraft, industrial, military, heavy vehicle, heating, air-conditioning and ventilation, data, telecommunications, recreational vehicle and marine applications. For more information please visit Sensata's website at www.sensata.com.
Featured Product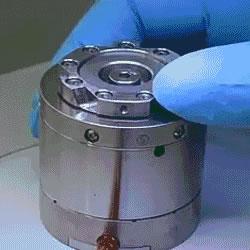 Superior positioning and geometric performance, absolute high-resolution encoders, and a large, ⌀260mm clear aperture makes this air bearing stage a precision instrument for optical alignment, metrology, inspection, calibration, and scanning. Features and advantages include ⌀260mm clear aperture, 77kg load capacity, 0.0015µrad resolution (max.), 500 RPM (max.), flatness/eccentricity of <175/300nm, wobble of < 1 µrad, and direct drive motor. Air-bearings have no rolling or sliding elements and deliver frictionless, non-contact motion, resulting in negligible reversal error, better flatness, and minimal wobble and eccentricity. All these are ideal prerequisites for applications such as inspection and metrology, calibration, and scanning of high-end parts (i.e., infrared and precision optics, turbine blades, shafts and bearings) in industries like aerospace, aircraft, automotive, semiconductors, and photonics.