A unique deep learning solution for the manufacturing industry can help US firms eradicate defective parts from their production operations.
Dataprophet PRESCRIBE uses advanced predictive and prescriptive machine learning capabilities to predict defects, faults and quality errors, and prescribe optimum control parameters to improve production.

The solution, which is already in use in multiple Tier 1 US automotive suppliers, can be integrated into a manufacturer's existing data environment in as little as four to eight weeks.
PRESCRIBE ingests and analyses process and quality control information from databases, spreadsheets, streaming sensors and PLC sources, and can record up to a thousand data points a second. State-of-the-art machine learning models are able to learn from this data to identify optimal control bounds.
To enable process change, PRESCRIBE provides operators with an easy-to-use web-interface. It helps operators to identify when operational parameters have exceeded the target control bounds and prioritises the changes required to optimize production and reduce scrap.
Access to the web-interface can be strictly controlled, limiting features, reports, and parameter access accordingly; while client manufacturing and application data is housed in a fully isolated database for maximum security.
Additional features allow users to compare reports across different time periods to ascertain if process changes are being actioned correctly, as well as explore reports across different steps
in the manufacturing process. Users are also able to filter uncontrollable and optimized parameters to focus on critical changes that need to be made and search for parameters crucial to a particular piece of equipment or process change.
Frans Cronje, CEO at Dataprophet, comments: "Traditionally, process control changes are reactive and rely on coordination across a changing team of process engineers, operators, plant managers and support staff. Involving so many stakeholders means this process can take weeks or months.
"However, real impact is only achieved with pre-emptive action because real-time is often too late. Our state-of-the-art machine learning models combine process data and quality control measurements from across many data sources to identify optimal control bounds which guide teams through every step of the process required to improve efficiency and cut defects. Using
DataProphet PRESCRIBE, teams work faster, operationalizing processes changes, and diagnosing new ones."
For more information on Dataprophet PRESCRIBE, please visit https://dataprophet.com/prescribe.
About DataProphet
DataProphet is a leader in AI that enables manufacturers to step towards autonomous manufacturing. Our AI-as-a-service proactively prescribes changes to plant control plans to continuously optimize production without the expert human analysis that is typically required. As recognized by the World Economic Forum, DataProphet PRESCRIBE has helped customers around the world experience a significant and practical impact on the factory floor, reducing the cost of non-quality by an average of 40 percent. We understand manufacturing and that real impact is achieved with pre-emptive actions because real-time is often too late. www.dataprophet.com
Featured Product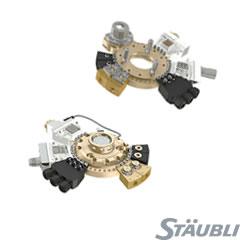 Stäubli is a pioneer in the construction and development of robotic tool changing systems. Our customers benefit from our many years of expertise in all industry sectors, as well as our modular product concept, which offers three efficient solution paths: MPS COMPLETE offers preconfigured robotic tool changers for immediate use. MPS MODULAR allows the user to determine the configuration, while MPS CUSTOMIZED allows the construction of special, application-specific systems.