In this free webinar, the featured speaker will explain what technological applications are being used to enhance supply chain performance and how data-driven insights and the latest advancements enable logistics professionals help brands meet retail compliance standards. Attendees will learn where the industry is headed and what customers should look for in a 3PL/logistics provider.
When most picture the logistics industry or 3PL of the future, they think of automated self-driving vehicles or package delivering drones. While these may be in-store someday, these lofty advancements currently remain more aspirational than tangible. Despite being a long way off from a complete infrastructure overhaul, transformation is still happening at 3PL firms every day.

In this webinar, Zipline Logistics' president and co-founder, Andrew Lynch, will discuss the 3PL and logistics industry of the future by highlighting the technological advancements currently in the space and how firms are incorporating those to find performance-enhancing and cost-reducing retail delivery strategies.
The discussion will focus on how strides in productivity, connectivity, and visibility tools have transformed 3PLs and helped increase the efficiency of the CPG supply chain.
From real-time tracking to price-matching technology, today's 3PL is much different from the one of decades past. Third-party providers are working smarter through technologically enabled solutions to find efficient capacity, discover accurate pricing, and eliminate many roadblocks that slowed down predecessors.
This webinar aims to give CPG brands a look into the tools that are being used to deliver their freight to retail customers in an efficient and cost-effective manner. Learn how 3PL specialization, service, and technological insights, are paving the way for a brighter logistics future.
Join Andrew Lynch, President and Co-Founder of Zipline Logistics in a live webinar on Friday, October 2, 2020 at 1pm EDT (6pm BST/UK).
For more information or to register for this event, visit The 3PL of the Future—Value Added Disruption in Logistics.
ABOUT XTALKS
Xtalks, powered by Honeycomb Worldwide Inc., is a leading provider of educational webinars to the global life science, food and medical device community. Every year thousands of industry practitioners (from life science, food and medical device companies, private & academic research institutions, healthcare centers, etc.) turn to Xtalks for access to quality content. Xtalks helps Life Science professionals stay current with industry developments, trends and regulations. Xtalks webinars also provide perspectives on key issues from top industry thought leaders and service providers.
To learn more about Xtalks visit http://xtalks.com
For information about hosting a webinar visit http://xtalks.com/why-host-a-webinar/
Featured Product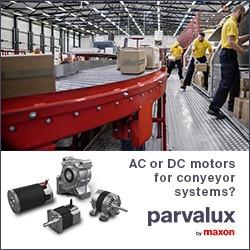 British-made Parvalux geared motors are used in a huge range of industrial applications in almost 80 countries. We manufacture conveyor belt motors, automatic shutter motors, packaging motors and much more. When you need reliable operation, you can trust Parvalux to safely power your application.