New Strategic Partnership Designed to Aid Manufacturers as Supply Chains and Jobs Begin Returning to the U.S.
HURON, Ohio - (July 16, 2020) - Cornerstone Consulting Organization (CCO), a situation-specific business and manufacturing consulting firm, and Juniper Solutions, a leading site selection consulting firm, launched a new initiative for North American manufacturers looking to re-shore overseas operations. Rapid Reshoring Solutions™ provides manufacturers with a turn-key solution by providing site selection services, relocation and business performance solutions designed to maximize profitability.

This new enterprise builds on the success of two separate business consultancies - designed to enable and accelerate desired change in strategic global supply chain configurations. The firms have combined insight about manufacturing supply chains and operations with expertise on real estate, siting, financing and navigating government permits, incentives and more.
Rapid Reshoring Solutions services include:
• Economic Incentive Consulting: Experts work closely with local and state governments to identify available economic incentives that will compliment a project and offer long-term savings.
• Location Analysis: Evaluate variables such as labor markets, business climate and tax rates, infrastructure, supply chain networks, living environment and more - helping to select the best community for a business' operations.
• Real Estate: Corporate real estate consultants assist with the site selection process to help a business choose the best site for its next plant, warehouse or office building.
• Operational Design and Relocation: Evaluate the existing process and help identify strengths and weaknesses before a business invests in relocation.
• Project Management: Whether relocating or consolidating multiple facilities, CCO and Juniper deliver your project swiftly and efficiently. The team can also include labor support such as staffing, staff augmentation and short-term placements.
• Training: Dozens of customized courses are available to meet a company's situational needs in manufacturing, leadership and management, supply chains and operations.
• Operation Excellence (OpEx): Experts provide the layout, project management and training that serves as the foundation for OpEx - the execution of one's business strategy.
The teams and their practices are a visible example of how veterans - with their excellent operations and engineering training combined with a service and mission temperament - become highly valued and effective resources for Fortune 500 and smaller manufacturers who need to fix performance problems that can even threaten the survival of the business - especially with today's significant disruptions.
"In this COVID-19 climate, there are a range of variables and pressures that will compel manufacturers to thoroughly analyze and act on re-aligning global supply chains and possibly bring their overseas operations back to home to the United States," said Bill Currence, founder of Cornerstone Consulting Organization. "Our experts have worked across the globe supporting manufacturers for decades, and we're ready to quickly support these businesses on reshoring efforts while progressing the American economy."
"We are excited to coalesce our site selection and corporate real estate expertise with Cornerstone's services to provide a true turn-key solution for North American manufacturers to bring mission critical facilities back to the U.S.," said Dennis Burnside, president of Juniper Solutions.
For more information, visit www.rapidreshoringsolutions.com.
About Cornerstone Consulting Organization
Cornerstone Consulting Organization, LLC is a situation-specific consulting firm specializing in a range of strategic business management services. Established in 2015, our consulting team brings organizations individualized, results-oriented solutions. We help companies quickly identify and accelerate operational improvements that lead to profitable and sustainable business performance. For more information, visit www.ccoconsulting.com.
About Juniper Solutions
Juniper Solutions is a leading provider of site selection services, corporate real estate advisory, and economic development consulting. With a collective 50+ years of experience, the Juniper team assists corporations locate and secure the optimal location and incentives for their clients manufacturing operations, mission critical facilities, or headquarters. For more information, visit www.jjunipercre.com.
Featured Product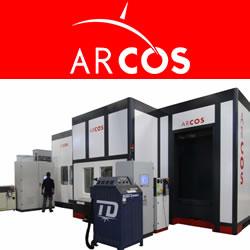 Robotized system for grinding and cutting with discs and the precision cutting with plasma technology of aeronautic parts. This Robotized system is produced for the finishing of aeronautic parts. This machine utilizes the grinding and cutting with a Ø1000mm disc. It is also allowing the precision cutting with plasma technology.